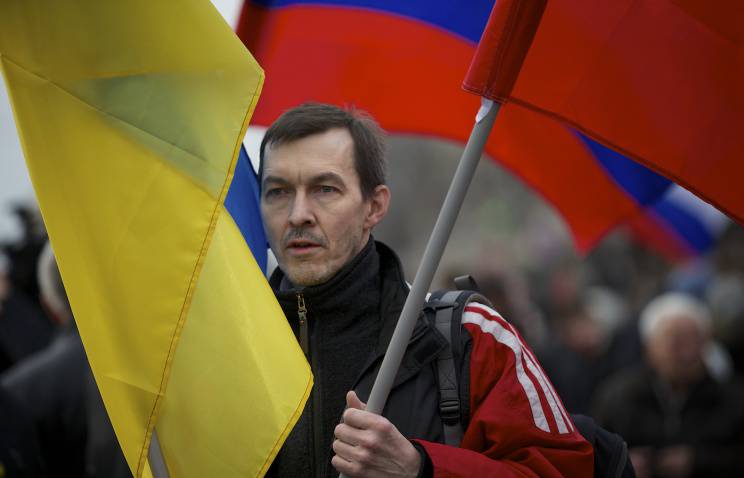 The draft law on breaking diplomatic relations with Russia, denouncing Ukrainian-Russian treaties and applying for membership in the EU and NATO was registered on March 17 in the Secretariat of the Verkhovna Rada of Ukraine on the initiative of radical deputy Oleg Lyashko.
It contains a requirement for the Acting President of Ukraine appointed by the Verkhovna Rada "to declare full combat readiness of the armed forces, carry out a general mobilization of Ukraine's military-service citizens and create national militia units", to appeal to the governments of the United States and other NATO member countries for material and technical assistance in the form of modern military equipment and weapons "," sever diplomatic relations with the Russian Federation "and introduce a visa regime.
It is also proposed to denounce the agreement on the status and conditions of the Black Sea
fleet
and the Treaty of Friendship, Cooperation and Partnership.
It is also proposed to establish the cost of transit of Russian gas through the territory of Ukraine to European countries in the amount of $ 500 per 1 thousand cubic meters. m and "in case of refusal of the Russian Federation to pay the specified price for the transit of gas immediately stop it."
Law enforcement agencies are invited to take "tough measures to stop any separatist actions" in the east of Ukraine, and the Ministry of Justice and the Prosecutor General's Office to go to court regarding the ban on the Communist Party of Ukraine and the Party of Regions. It is also proposed to stop the broadcasting of Russian television and radio channels and the distribution of printed publications, which "are used as tools of the propaganda war against Ukraine."
It is proposed to equate Ukrainian citizens participating in "separatist rallies" with "supporters of occupiers", deny Ukrainian citizenship and prosecute for high treason. It is also proposed to introduce "the death penalty for traitors, saboteurs, marauders, murderers, deserters and spies."