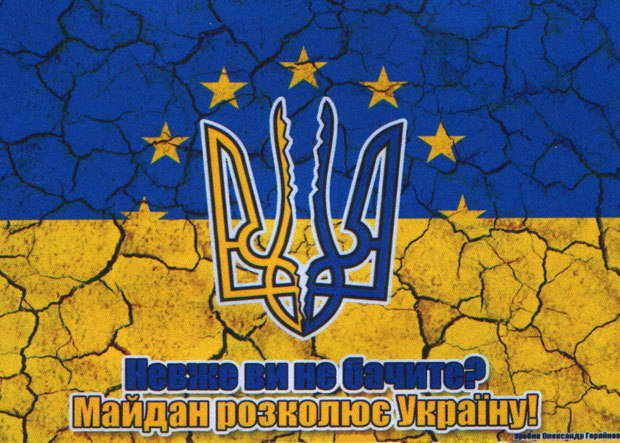 In recent months, the people and political forces that seized power in Kiev have done everything to not only split Ukraine, but also to do it in a bloody way. In Kharkov and Lugansk, Donetsk and Zaporozhye, Mariupol and Odessa, their actions cause bewilderment, outrage and resistance, which will only increase further. And Odessa wrote a letter to Western leaders ...
Mr. Obama
Mr. Obama, you are such a big president of such a big country ... But such a big scientist to call you a language does not turn ... Mr. Obama, what do you miss? Maybe you have difficulties in the family? Or high blood pressure? Or maybe sho shos you up? So drink cognac, if sho, we will send you our ... And tell me, where do you get such advisers, sho then you go bankrupt without a penny of money? So your dollars are simple pieces of paper, and you have a debt, sho called, Mama Do not Cry, otherwise it will be painful ...
Initially you typed 5 billion and gave them to Independence, so he bashed three months on the barrels and rushed to the police. Mr. Obama, you are so Schaub lived as false modesty! Imagine, if you hit on the head three months? You would have been nice? And then hit on the head three months Ukraine!
But we here in Odessa feel that you really hit on the head, but only your advisors. 23 years our entire Ukraine was plundered and destroyed. Mr. Obama, if you put on the Ukrainian pension, you would remember their ancestors, those who were not African-Americans, and were just blacks. So, Mr. Obama, the population of Ukraine the same negros, but only white, and it also wants to live well. A 23 year we stupidly sold into slavery.
Mr. Obama, why could blacks rebel against slavery, but can't we? Are we worse than blacks? So read
history
how Abraham Lincoln set free blacks! Of course, we wish you to live as long as the oak lives near Duke, but when you meet with Lincoln, we hope that he will spank you hard.
Mr. Obama, in general, the elevator does not lift down ... After the maydauns throughout Ukraine sounded on the head, and you, probably, too, but only McCain and Nukland did, in Kiev the gangs sat down. And they began to threaten Russian direct genocide. Mr. Obama, if you are such a Democrat, why do you support them? Don't you have enough sex in your life? Then ask the kefir ... If anything, we send our ... in one word, Mr. Obama, it would be a shame for us to walk with you alone in Odessa, and tell your McCain to stop harassing our women, because our grandmother Aunt Tsilya says, that if he began to pester her, she would become a man and give him a hard face.
Frau Merkel
Dear Frau Merkel, our hello to you! And do not brush your nerves Ukraine. Remember how the Nazis captured it all ... In your place, we would not turn Faberge on us, but we would think why Nazism is forbidden in Germany and in Ukraine in our country? We have the very Bandera, sho were in the SS, with might and main scamming machine guns at civilians, and you? We have those who are in Kiev and nearby, they are pulling away everything, but what about you in Berlin? Sho with you, Frau Merkel, if you are sick, so if Sho, call the ambulance, otherwise it will be too late, because Yarosh from the Right Sector was going to blow up the Druzhba gas pipeline. We are afraid that if he does this, then you will have Maidan in Berlin too, and your head will hurt you too, and the ambulance will not help anymore ... And our grandmother, Aunt Tsilya, says that you, Frau Merkel, will not help and the second ambulance, when the Right Sector comes to the Ukrainian nuclear power plants ... And we believe her, Frau Merkel, and maybe Tsilya would be Germany's better chancellor than you? Because she understands the obvious things, and all the time you are quarreling with brains.
And generally, do you watch TV? If sho, we will send you our ... Did you watch the performance of Seni Yatsenyuk? Not? So he promised all of Ukraine, so that Schaub "the earth was burning under his feet," and even with the help of "Western partners." Our grandmother, Aunt Tsilya, says that Senya has gathered with your help, Frau Merkel, to build a concentration camp for the Russians again. And who then can say that someone has not made a pregnant head for you? Here you and resuscitation will not help, Schaub, we lived like that.
Mr Cameron
Mr. Cameron, our grandmother, Aunt Tsilya, said that your English humor began to tire me a lot. And at Deribasovskaya they cannot understand why you always want to fry fish, but all the time you do it without oil? If necessary, we will send you our ... We beg you, if you want to get a couple of inconspicuous trivia, do not make yourself unpleasant ... And then we will make an alliance with Scotland, and make you such sanctions, then we will listen to your requests.
Monsieur Hollande
Monsieur Hollande, we, in Odessa, of course, understand that you have difficulties in France with these LGBT people. But you yourself are changing girls all the time, so why are you trying to make us love not like human beings? Do better "Mistral".
Pan Komarovski
Ban Komorowski, please do not make Tselkin Clara, and do not pretend you do not sho Ukraine. We can not hear you, because we can not see you. Take Me Lviv, and you will be the song throughout Ukraine.
And Mr. Basescu
Right now we beat and we will not let cry ...
All
In short, if you do not want, Shtob laughed for you, do so; Shtob gangsters in Kiev did not make you clowns ...