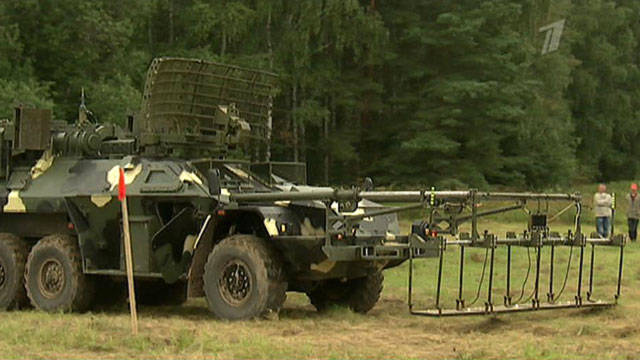 Strategic missile forces are expecting quick deliveries of promising engineering weapons. They will provide better maneuverability and increase the survivability of mobile rocket launcher complexes.
Among the new products developed for the "strategists" should be mentioned two special machines. The first is for engineering and camouflage. The second - for remote destruction of explosive objects.
- Before 2020, about two dozen Foliage remote-clearance machines will arrive in our units, said the Acting Head of the RVSN engineering service, Lieutenant Colonel Heinrich Gaidukevich. - In accordance with the state contract, the industry will also release about fifty engineering and concealment machines by this date.
The test of "Foliage" was held in August last year at the test site near Krasnoarmeysk (Moscow region). This special vehicle operates on the basis of new physical principles - a block of microwave radiation is installed on the armored car. Previously, similar technology for remote elimination of explosive devices was not used. But it can be used to detect mines and land mines at a distance of 100 meters and in the sector up to 30 degrees. In other words, saboteurs will no longer be able to undermine the mobile strategic complex on the march, because smart electronics will warn the crew in advance of imminent danger.
A remote demining machine was created specifically for the Strategic Missile Forces. The military say that in the future it will be used to accompany the columns of the Yars mobile missile systems. The first "Foliage" already this year will receive rocket men of the Teikov division.
Along with this, before the 2020 of the year, the Strategic Missile Forces must supply more than 300 units of other special equipment: engineering barriers, heavy mechanized bridges, excavators, automobile cranes, etc. According to Gaidukevich, more than half of the novelties ordered by the command of the Missile Forces are wheeled road vehicles designed for the Strategic Missile Forces this year.