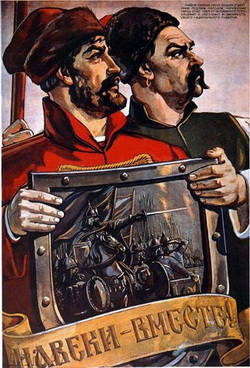 The controversy received an open letter in which the Russian-speaking part of the citizens of Ukraine refers to their fellow citizens. We publish without cuts and changes.
"Cold war may end tomorrow and NOT bloodshed begin.
It is only necessary to hear each other. The solution to our many years of dispute exists.
We, Russians, just like you, Ukrainians, will never accept the fate of a quick or gradual disappearance, because we live on our land. We are also, like you, ready to put all our strength in and if you have to give your life to preserve your language and culture. The solution to our dispute exists.
We just must not let our enemies trample it. The solution is the federalization of the country. Federalization guarantees the preservation and development of the Ukrainian language, as well as the Russian language.
The idea of ​​unconditional Ukrainization of Russians and the erasure of everything Russian as a means of survival of Ukrainians and the Ukrainian language is not a natural part of the perception of Ukrainians. This idea was vigorously instilled by our enemies, who wanted to divide and rule. And today they clearly understand that as long as there are Russian people in the South-East of the country, they will not be able to deploy NATO bases and a missile defense system with us. Therefore, they have been fostering radical Galician nationalism for decades, obstinately shutting their eyes to all its monstrous manifestations. Western strategists want to lay in the heads of Ukrainians that Bandera and Shukhevych are your heroes, but this is not so. That the crimes of accomplices of Hitler are the crimes of your fathers, but they are not. After accepting this bloody legacy, the Ukrainians will have no other way than to continue the work of these criminals. America and its temporary companions want war with Russia, but they will lead it at the expense of the lives of Ukrainians. These sleek gentlemen are reasonable enough to take care of their people throwing strangers into the furnace of the war.
Russian should become the state language on a par with Ukrainian. Russians will never agree to an unequal position. Our common state can only be built on an equal basis.
We Russians do not want unification and monotony. All
история
The development of our civilization demonstrates that even during the times of expansion (which many nations underwent) we did not come as executioners removing scalps and robbing colonies, but as a people absorbing other peoples, incorporating them, but not etching them. How many peoples, languages ​​were in North and South America, Australia and how many left ?! How many peoples of Russia live on their own land and speak their languages ​​to this day? !!
We do not want and I think that we will never want Ukrainians to forget the Ukrainian language. We like it, we love Ukrainian songs and culture. We want to see different flowers in our garden. We want Ukrainian culture and language to be part of our overall pattern, we just cannot accept the integration of the swastika in its modern meaning into our pattern. Neither an American, nor a German, nor a Romanian can feel the subtleties of the Ukrainian language. English and German languages ​​will rather force out the Ukrainian language. Only in the general Russian World Ukrainian language will find savings and understanding.
We must return to our land its historical name RUSSIA. The current name of the country, deftly slipped to us by our longtime enemies is humiliating. We do not want to be the outskirts of anything. We haven't stolen anything. We are not a rootless tribe that has forgotten its roots, and we must return to its land its historical and original name RUSSIA.
RUSSIA is the beginning of our statehood, RUSSIA is the beginning of an empire stretching to the borders of Eurasia, RUSSIA will regain the lost role of the center of the whole Russian world.
Russia will agree that Kiev or Kharkov become the political capital. Moscow was and will be the economic capital. Russia will give much in order to be together. Russia may also agree to regain the historical name of Russia.
There is no closer, more dear person on Earth for a Ukrainian than a Russian. We are ready to live with you in the same house, whether you are poor or weak, because we know that we are one blood and come out of ONE beginning.
Do not believe the sweet words of Western leaders. Ukrainians will never be close and equal to them. You will play the role of the colony and supplier of cheap labor. All the privileged roles in the Western world have long been painted and no one will concede them. There are no fools in the West. Ukrainians will not be happy to find themselves in the role of donkeys, concubines and cannon fodder. If someone else believes that Americans and Europeans want welfare to Ukrainians, just watch their hands carefully, how much money they will give, on what conditions, and what they will be asked to make for that money. A country that does not have developed production cannot be rich.
Ukrainians, do not fall into the western "trap", where Bulgarians, Serbs, Romanians, Hungarians, Latvians, Lithuanians, Estonians, Greeks ... ... You can get out of this trap only by losing limbs.
We, Russians, suggest that you do not join the table, but become a co-founder of our common cause. We, Russians, will not stop at building a new Economic Union, but we want to build it together with you and on an equal footing, and not next to you or against you.
Ukrainians, realize that the so-called European "values" of pederasty, preparing for the legalization of pedophilia, incest, bestiality, ... will come to you, whether you are part of the Western world. The largest countries of the West have not been able to resist these degradation trends, and even more so no one will take into account the opinion of a country mired in debt and located on the outskirts of the Western world. Your politicians for the next loan, the villa on the Cote d'Azur or the percentage of votes in the elections will sell your values, but they will make you start to want all this moral decay and degeneration. Western soda is a threat to the civilization of the twenty-first century. To resist her, we must be together.
These days, we are Russians as well, just like you, Ukrainians are praying that bloodshed will not begin tomorrow. Let's not let those who are already part of the body in the Body of the West speak for you star-striped tongues.
The cold war may end tomorrow and NOT bloodshed will begin. "