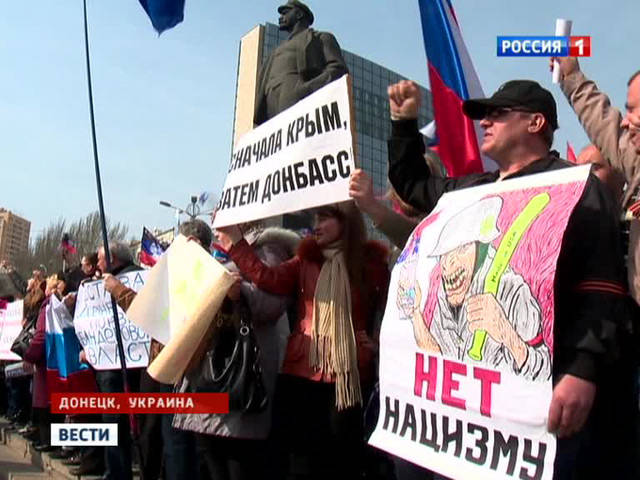 Thousands of people again went on a pro-Russian action against the new Kiev authorities, demanding the release of the people's governor, Pavel Gubarev, and a referendum on the status of Donbass. Protesters hoisted the Russian flag over the regional administration of the SBU and went to storm the building.
A crowd of thousands continues to picket the SBU building in Donetsk. The comrades-in-arms of the people's governor Pavel Gubarev managed to get inside and bring the head of the security service to the people. True, in front of this building, activists of the people's militia of Donbass changed the flag of Ukraine to the Donetsk Republic, and seeking an audience with the leadership of the security services, smashed glass doors.
The police cordon, who arrived at the scene, could not stop the human wave. However, Donetsk law enforcement officers continue to adhere to a policy of no intervention. They did not attempt to detain or arrest anyone. In the end, the activists still went inside the special forces. But they did not go further than the first floor. And before that, supporters of the people's governor could still hand over their list of demands to the authorities. It was an ultimatum. His main demand is the release from the custody of Pavel Gubarev and all his supporters. People's Governor is now under arrest in Kiev. To reflect on the authorities took 24 hours. I must say that all the people came from the central square, where a peaceful rally was held in support of the referendum in the Crimea, and demanding a referendum in the Donbas.
On the eve of the head of Donetsk tried to ban the holding of public events on the weekend 15 and 16 in March. But the administrative court rejected these demands. As a result, residents of Donetsk came to the square. Despite numerous provocations on the Internet, rumors about upcoming clashes and almost terrorist attacks were spread on social networks. There was information that people from regional centers, small mining towns were not allowed to enter Donetsk. Under various pretexts, they were braked and deployed by traffic police officers, including under the fact that bridges were mined at the entrance to the city. But people still got here. Thousands rally held. Of course, many recalled the nightly events in Kharkov. After that, the rally turned into a demonstration.
In Donetsk, will be another rally. According to local tradition, Sunday meetings are always numerous. They say the 30-40 thousands, at least.