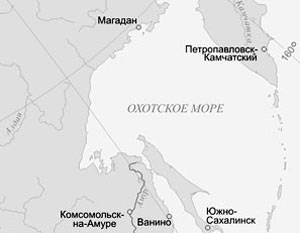 The UN Commission on the Continental Shelf officially handed over to Russia on Friday a document recognizing the Russian continental shelf as an enclave of 52 thousand square meters. km in the middle of the Sea of ​​Okhotsk, said the head of the Ministry of Natural Resources of Russia Sergey Donskoy.
"This is actually an event," he said. According to the minister, "the commission's decision is unconditional and does not have a reverse course," RIA reports.
News
».
As noted by Donskoy, the Russian shelf includes a plot the size of a small state, which has not yet belonged to any of the countries, but now only the jurisdiction of Russia will extend to its resources.
"Russian legislation now extends to resources that are under the bottom of the Sea of ​​Okhotsk," the minister said.
The original application was filed with the UN in 2001 year. Now the international community has fully recognized the Sea of ​​Okhotsk as an inland sea of ​​Russia.
According to Donskoy, "this is the first step of our Arctic application, which will be prepared soon."