Opponents claim that a referendum on joining Russia will be unconstitutional
Kevin Barrett, Veterans Today (
original article
).
Fed up with corruption at the state level, deceitful, fruitless leadership, a group of Americans appealed to join the Russian Federation.
"We collect signatures for holding a referendum on whether to remain a bankrupt state, a ruined country ruled by criminal oligarchs, or join the Russian Federation under the authority of the president with successful experience of breaking horns on oligarchs," says Bill Blatsky, head of Russia - Putin's presidency.
Supporters of the referendum indicate that the US has deep
historical
ties with Russia. "Almost 20% of the United States is Alaska, which was historically Russian territory," Blatsky explains. "Even today, Sarah Palin, looking from her window through the Bering Strait, can see the sparkling lights of Vladivostok and, sighing sadly, dream of being there in a civilized country, where such an ignorant hillbilly as she would not have a chance to be elected to the lowest position . Why should Americans want to remain in a state that periodically allows the very possibility of presidency of such a person? By joining the Russian Federation, we will become part of a country in which there is at least the appearance of an education system. "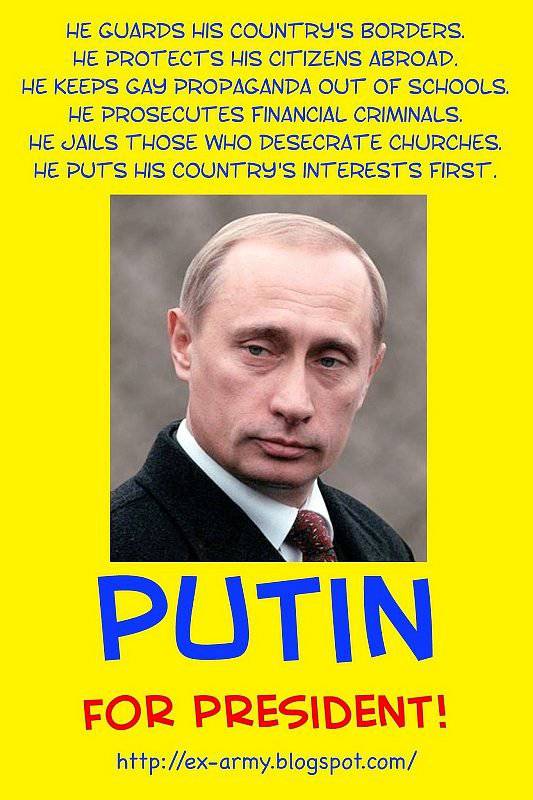 Inscriptions on the poster from top to bottom:
"He guards the borders of his country; he protects his citizens abroad; he banned gay propaganda in schools;
he pursues financial criminals; he imprisons those who blaspheme in churches;
he puts the interests of the country above his own.
Putin's presidency! "
The Putin-for-Presidency movement notes that the west coast north of San Francisco — America's coolest place — can also be considered a historic part of Russia. "This is not just Alaska," explains Blatsky. "There is a reason why the largest world leader in marijuana production, Humboldt County, California, is named after Russian researcher and cannabis connoisseur Alexander von Humboldt, who installed the Russian flag on these shores, but forgot about it because of short-term memory loss. Unfortunately, I can not remember for what reason. And let's not forget that Bohemian Grove, where the criminal oligarchs of America gather every year to develop plans for their looting, is on the banks of the Russian River. Wouldn't it be nice if Putin sent a battleship upriver and arrest all these guys? "
Opponents argue that a referendum on joining Russia will be unconstitutional. Proponents say that everything the US government did after 9 / 11, and most of what it did before, is also unconstitutional, but nobody cares.
If you fail to hold a national referendum on joining Russia, supporters of the idea have a fallback - the nomination of Vladimir Putin as a candidate for the presidency of the United States of America. Blatsky praises Putin's chances: "If Putin is put up against these six candidates from the main parties - Barack Obama, Mitt Romney, John McCain, John Kerry, Al Gore and George W. Bush - he will get more votes than all these candidates together taken ".
Proponents of the Russian and possible American president have already printed millions of bumper stickers saying: "Putin for President: As the Minimum, He is the Competent."
When one of the Obama administration officials was asked whether Putin's candidacy for the presidency was possible, he replied that the Russian president was no good for the role of the US president, since he was not an American citizen by birth.
Official Loretta Faddi, who reportedly produced a document in Photoshop confirming Putin's birth in Hawaii, is currently unavailable.