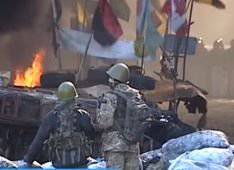 16 March in Crimea held a referendum that will decide the fate of autonomy. Historian, writer and journalist Lev Lurie told Rosbalt about what awaits the Russians after this significant date.
- Lev Yakovlevich, in your opinion, what will be the results and consequences of a referendum in the Crimea?
- I think that the referendum results are predetermined. The majority of the population of Crimea wants to leave poor Ukraine to rich Russia. Tatars will vote against, but their 12%. Russia will not yield to Crimea - this is completely obvious. And Ukraine has already recognized his loss. But I am afraid that after that the Russian authorities will receive permission for any "hacks". We will be able to take everything that is bad lies. There are plenty of opportunities to further expand the Russian land. Actually, was Belorussia once Belorus? This is an artificial product of the 1922 alliance treaty of the year. Or Narva, or Transnistria, or the area of ​​Daugavpils? Russians live there too. Russia, it gives a feeling of permissiveness. This was in the past. We can recall the accession of Poland, the North Caucasus, Finland, Manchuria. Many times we took the territory, which we then choked, which could not digest.
- Will Russia be able to "digest" the Crimea?
- There is nothing to digest there, but the problem lies in the precedent that changes the rules. We have created a new way to redistribute the world, first of all, Europe, which cannot suit anyone. Indeed, the Hungarians in Romania and Slovakia can now enter Hungary, the Serbs in Bosnia and Herzegovina can go to Serbia, and the Catalans can declare themselves an independent state. The problem is that in 1991, for various reasons, we agreed on the inviolability of the borders of the CIS countries. Nobody, in fact, pulled our tongues. Vladimir Vladimirovich was then deputy mayor of St. Petersburg, that is, part of the state that promised not to encroach on the Crimea. Now these rules are broken. We went to it, the decision is made. Chess is over, another game has begun. In Chapaeva, for example. Vladimir Vladimirovich is a courageous man, he knows how to risk, he is a man of sports. He believes: "Why not?". It seems to me that Putin won this tatami fight. But life is not one fight, it is a lot of different competitions. We can win at a short distance, in the sprint, but the marathon, I am afraid, will not pull the current regime.
- How will Western countries react to the annexation of the Crimea?
- I think that de facto they admit it, de jure - never. This means that they, of course, not immediately, but gradually take Russia into a rigid ring. Gergiev will no longer be allowed to lead the Rotterdam orchestra, Zheleznyak will no longer rest in Nice, and Rodnin will not be allowed to visit her daughter in America. The G8 will disappear; in Sochi, it will not be 100%. Russia will be expelled from the OSCE. European countries, of course, first of all think about themselves, so they first need to get rid of our dependence on our gas, take the business away from here. Anyway, on the sly, they will try to isolate Russia. I think that in the future we will see lower prices for energy resources, embargoes, visa closures and confiscation of property of people directly connected with the ruling elite of the Russian Federation. For a short time, there will be a strengthening of the regime, such weighting, up to repression, arrests and closure of the media, and then an economic collapse.
- How soon will this tactics of the West affect the lives of ordinary Russians?
- It has already been reflected due to the collapse of the ruble. That is, we have already paid 15% of the national currency for this Crimea. Of course, if we do not dwell on the Crimea, but if we deal with Lugansk, Donetsk and Kharkov, which is also very sweet, then Turkey and we will be closed. Have to rest in the Crimea. For the heads of police departments from Krasnoyarsk and Omsk, this will be a great loss. No Antalya, no all-inclusive, a lavatory on the street and a crap beach in Sudak or exorbitant prices in Sochi. This is the price the Russian middle class will pay. As for the people, it is waiting for an exorbitant price increase, for which pensions, salaries will not keep pace, it will hit state employees. I myself am not against the annexation of the Crimea, I will lose little from me. I used to go to Ukrainian Koktebel, but now I will go to Russian, what's the difference? But as for Lingonberry - I think that St. Petersburg residents are more concerned in principle. And in general, those who are connected with abroad more than with Moscow - Vladivostok, Kaliningraders. Finland itself does not want to close the border, because the Russians spend a lot of money there. But if this decision is agreed with the West, then why not? I am not convinced of this, but I say that there is such a danger.
- How do you feel about the active collection of humanitarian aid for residents of the peninsula?
- This is just nonsense and the desire of officials to somehow curry favor. In Crimea, there was no humanitarian disaster. The so-called "Bendera" did not destroy the Russian population. Crimea cannot be poorer than the Kurgan or Vologda regions. And you need to help, of course, with your own, and the Crimea will cope, after all, it's warm there, there is no shortage of products, Bendery, not a single person was killed. And the earthquake was not there.
- Is it possible to draw a parallel between the invasion of the Crimea and Afghanistan? Then, too, it was about good intentions ...
- It's completely different
stories
: with Afghanistan, with Czechoslovakia, with Hungary and the Crimea. In Crimea, they are waiting for us. Crimea welcomes Russian troops. But Afghanistan is generally a foreign land. In the Czech Republic, we were perceived by the majority of the population as invaders, in Hungary, too. So in this sense, Crimea is the least painful story. It is like Abkhazia and South Ossetia. But look what happened to them when they became our dominions. This is an empty country in which no one invests a penny. And what they invest is stolen. Not recognized by any state in the world, except for some Pacific Islands. Crimea, too, for many years will be subsidized region. There it will be necessary to deliver water, gas, build a bridge. Most of those who were vacationing there were Ukrainians, now these people will not go there. And I do not think that the lack of Ukrainian tourist flow will compensate for some new Russian. Investments in the Crimea in such a fortunate international situation, despite the fact that the inclusion of Crimea in Russia does not recognize the vast majority of countries will be extremely risky. Surely we now need to Yalta as Sochi equip? Investing in the Crimea is a barrel of danaid. It is meaningless and will not pay off.
- How do you feel about the current leadership of the autonomy?
- From my point of view, these are random people who, as I understand it, are closely connected with organized crime. In Ukraine, and it is not a secret, the 90s continued and continue. And the only positive thing I see in all this Crimean history is that after entering Russia they will be expelled. These Konstantinov (Speaker of the Parliament of the Autonomous Republic of Crimea - Rosbalt), Aksenov (Head of the Government of Crimea - Rosbalt) ... They did not have long. Appoint a governor, some federal official.
- How will our relations with Ukraine develop after the referendum?
"For the rest of Ukraine, leaving the Crimea will be a terrible slap in the face, which for several generations will spoil our relations with the Ukrainians, throw them towards NATO. And I'm not talking about Lviv, not about Galicia, but about Odessa, Poltava, Kiev, Chernigov, Sumy, that is, about that Ukraine, which, even under Bogdan Khmelnytsky, became part of Russia. Honestly, I am a supporter of the split of Ukraine. I believe that there are two different states. And it will be very difficult to conquer Ukraine, because after Dnepropetrovsk and Cherkassy, ​​what we now call Bendery will begin. That is, there will fight, kill. And up to this place it is quite possible to enter, and the population is more or less all the same to which they belong - to Russia or to Ukraine. And I would consolidate this dualism in the place of the Ukrainians. They want Donetsk, Lugansk or Kharkov to go to Russia - let them vote. And then they need to be peacefully, under UN control, included. And not like this, "hapkom." If the Russian army annexes eastern Ukraine and moves into the central Ukraine, then a third world war can happen. Since we start from the assumption that we need to take everything that is given, then why not take it? I do not exclude such a variant of events.
- How do you feel about such a phenomenon as a referendum? Maybe the Russians also need to solve such different issues more often, for example, to build or not to build the Okhta Center?
- At the end of 1991 in Ukraine there was another referendum and all regions, including the Crimea, I stress, voted for independence from Russia. But the referendum is a rather crude instrument, and therefore Napoleon III and Hitler loved them so much. If you have the First Channel, then it is not difficult to make the results of the referendum. I think that issues such as the Okhta Center should be addressed by an active minority, which it did. But I must say, sociological polls show that the annexation of the Crimea causes less enthusiasm among the residents of St. Petersburg than in any other city in Russia.