On the first channel of the TV channel "Russia" an unexpected documentary "Biochemistry of Betrayal" passed. It finally opened a crack on the vile role of the five-column "Russian intelligentsia", and mainly on General Vlasov, now more than 25 years, praised by the liberla as an example of a fighter with the "bloodthirsty" Stalinist regime. There is even a wonderful episode - the Nazi Nazi officer is basking in the sun in the USA. For exported and rescued ... for further struggle with the hated great-power USSR.
But due to the fact that the producer of this film is Vladimir Solovyov, there is not even a hint of a traitorous role in our newest
stories
bundles of Sakharov – Bonner. For V. Solovyov can not disown his pet. There is no like in the film and an intelligible conclusion about the vile role of the super-priests of Gorbachev and Yeltsin. And, of course, not a bit about Lev Trotsky, who dreamed, along with Hitler on a white horse, to ride to conquered Moscow.
It is easy, however, to be the pioneers of our own "five-man colonists", who were frightened in obzhazhivanii Russian history, in reproach of the true heroes of Russia, if it was you oligarchy who gave the exclusive right to get out in the teleoil! That very same Zhirinovsky climbed and grew to the size of a politician from a little-known lawyer ...
Revolutionary political consultants who protect tricked clerks about the people in the Kremlin, now allow their lackeys-cultural traders from the same "fifth column" to shout about the shamelessness of certain shameless people who cheat the notion of "patriotism". And to criticize those who "belittle the role of the Soviet Union in the defeat of German fascism." Ay-yay-yay, yes ay-yay-yay ... Like all the dozens of true patriots, all these 25 years have not fought off the five-column bastards, who put the patriotism, the veterans of the Great Patriotic War with their tins on their breasts and , exactly according to the CIA templates and for the "loot" - all sorts of belittling of the Red-Soviet Army and its role in liberating the peoples from Hitlerism.
And so far, patriotic publications and their employees, patriots, as I have repeatedly "screamed" about this, neither radio broadcasts nor TV are available. They are not for the people. But with their ideas, with their energetics, if necessary, they feed on all these "righteous" Soloviov-Zhirinovsky-wellers. On their half-truth, as if it were a drug, and the "electorate" is planted in the same teleokoshka, cunning Ernsty-Kulistikov, etc.
Where are I.V. Stalin, Mr. Solovyov, in your "exposed"? Where are his undeniable merits in establishing the same counter-propaganda, intelligence services, in cleansing society, right before the Great Patriotic War, from the "fifth column" ?!
No, I do not consider the books M.N. Poltoranina absolutely flawless. But with all the shortcomings, they are from the series of in-depth analysis of the causes and consequences of the archicatastrophe, which the World Mafia with Russia did. And Ukraine, now blazing, is a terrible testimony to that.
Here it is - in faces, facts, figures - the true one, well made by a connoisseur and participant in the events - "The biochemistry of betrayal". Not in the glamorous, for "cattle", the best-selling-skukozhennom version, namely, "in TNT equivalent." Honestly warning Kremledumtsev: "Russia is pregnant with Stalin!" That is, a thirst for justice in all directions. With the indispensable expulsion from the media "five-column". But ... "he will eat something ... but who will give him?"
It would seem that I can't have any special questions for the former associate of Gorbachev and Yeltsin. At the time when I, like ordinary communist journalists, like me, even before the "putsch" of 1991, completely recovered from the "fascination" with the lies of all these large-scale "perestroika", M.N. Judging by the facts of his biography, Poltoranin remained in the circles of the "liberal-democratic" invasion of our people.
And suddenly ... In some sense, an incredible book "Power in TNT equivalent" appears on the shelves of bookstores. And snapped up. And since then, that is, from the 2010 year, it is one of the most read-studied. For those who didn't turn into a vegetable, who need to understand to what extent the "democratic idealist", Pravda's employee, suddenly went to serve as an infinite drunkard, what forces threw up all these Mikhail Gorbachevs, Anatoly Chubais, reality, and not in the interpretation of dissidence, Khrushchev's "thaw", than any world class Leningrad Sobchak ... And why not for the Yeltsinoid "obshchak" anyone is more hated than Joseph Stalin.
I read "Power in TNT equivalent" and "Evil spirit of Russia" - the books of M.N. Poltoranina. I called the author. At seventy-five, Mikhail Nikiforovich underwent a complicated heart operation. He admits: "It is very important for me to understand where, by whom, and at what turns the" watermelon rinds "were thrown so that the country would slip. And crashed down so that we still rub bruises. After all, the Yeltsin oligarchy — an inhuman, cannibalistic system — did not lay down from the bay-floundering into communal Russia. He lay down to this day. Increasingly arrogant and stinging country. "
Books M.N. Poltoranina need to read. But, I dare to suggest, our blitz-conversation with him under the recorder also has its value for the reader. Moreover, it is absolutely "with the heat of the heat." Moreover, we, both right and wrong, are mortal, and only "the word", for the good of the Truth-Truth, does not burn and decay ...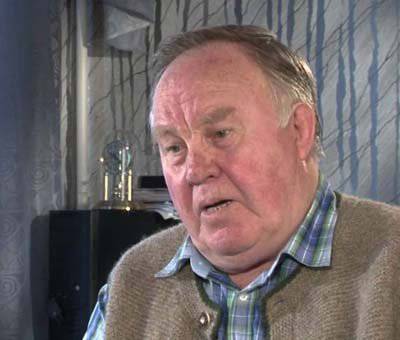 Mikhail Nikiforovich Poltoranin is a Russian professional journalist, statesman of the USSR and the Russian Federation, an active supporter of Yeltsin during the August 1991 putsch.

22 was born on November 1939 of the year in Leninogorsk of the East Kazakhstan region, the Kazakh SSR. He graduated from the Kazakh University in 1964 year and the Higher Party School under the Central Committee of the CPSU. Member of the CPSU with 1960 on 1991 year. In 1964 – 1986 worked as a correspondent for various newspapers. In 1986 – 1988 - the editor-in-chief of the Moscow Communist Party group newspaper Moskovskaya Pravda. In 1989, he was elected a people's deputy of the USSR. From July 1990 to November 1992 - Minister of Press and Information of the Russian Federation. In 1992, at the same time, he was Deputy Chairman of the Government of the Russian Federation, head of the interdepartmental commission for declassifying the documents of the CPSU. In 1992 – 1993 - Head of the Federal Information Center of the Russian Federation, Chairman of the Special Commission on Archives under the President of the Russian Federation. In 1993 – 1996 - Member of the State Duma. Member of the Choice of Russia faction, chairman of the Committee on Information Policy and Communications. Since 1996, President of the Moment of Truth TV Corporation.
Lilia Belyaeva: Why did it happen that the very first, so to speak, naive, romantic journalist-writers were not needed? No party nomenclature under Gorbachev, much less Yeltsin. And today we live-print in a semi-legal position.
Mikhail Poltoranin: You yourself answered this question in one of your works - "There is no ford in shit".
LB. :: And what, now more shit than under Yeltsin?
MP: Of course, more.
LB: And what does this mean?
MP: Everything is accumulating. Over the years we have been accumulating and accumulating crap. And there really is no ford in this shit, it should be removed.
LB: However ... This is not a triumph of democracy, what are we saying and speaking, and while nobody slammed us? One of your books, "Power in TNT equivalent", which is worth! And you - not touched.
MP: Because I am Poltoranin. Try remove me! They are afraid of noise. Remove you - they are afraid of noise. Maybe you are not so annoyed to them. And who needs it - won, Ilyukhin, slammed easily, without any ... ...
LB: That is, this is not fiction? Do not exaggerate?
MP: That's when we say that the Soviet Union was helped by the collapse of foreigners, and according to their instructions, all this was done - oh, psychos talk about it, the Russian peasant is a moron, he ruined himself, and all that kind of stuff ... ... I recently had one journalist from Kazakhstan, and he said: "Well, why are we exaggerating everything, saying that the West is interfering with us all the time?" I told him: "You understand, did not prevent the West from developing and going forward, when Stalin was, when Brezhnev was, because they had no accounts abroad for anyone, and the families lived here. And when bills began to appear, they were all hung on the hook. " Of course, the president of America himself did not come and did not command to do this and that, and they did it by the hands of our people. I was in this government ... ... The meeting of the government should go for some problems, and bring materials, government decrees in English. It was written by the Americans, who are here led by Jeffrey Sachs (he is known to be Yeltsin's chief economic adviser). They wrote, they brought them from there, and then we sat - Gaidar, Avena, Chubais, translated into Russian somehow, the Russian was dirty, half English, and dragged it all for approval. I wrote about it. But not everyone reads, not everyone knows. "Oh, why engage in conspiracy!"
LB: Yes, they said that we are assholes, that we invent all this. Nemtsov, Gaidar ... "They made up some kind of Zionism! Boris Nikolayevich, beat them as soon as possible, otherwise they will be with us ... "But in the end ...
MP: There was and is Naina Yeltsin Yosifovna, she climbed in personnel questions to me, on the rights that we know, talked, were friends of families ... ... But I "turned it off" - once, then the second time - -large, and they are offended with Yeltsin. And I wondered how she knew everything. I was told that she is meeting with Lisnevskaya, with Galina Volchek, with all this select company. Allegedly, they are found in the Lenkom theater, Mark Zakharov's - I had such information, I didn't attend it, I can't say for sure ... ... And then they say - so I put it, but I had to remove and put another. And she tells me that it is necessary to remove that, and put it. I told her: "What is your business?"
LB: Anyway, they penetrated everywhere?
MP: So they kicked us out! Titkin, for example, fought against them - was Sasha Titkin, Minister of Economy. He was categorically against the privatization of Chubais. He was thrown out, he died. Misha Maley fought against them - thrown out. They squeezed me. Against me, what attacks were there, don't remember? They considered, and are still writing, here it is - the Yeltsinist ... ... What a Yeltsinist I am! I came there to work and even less engaged in newspapers, ideology, than, say, publishing, because - you probably know - when we came to the government, then textbooks for the Soviet Union were printed in Germany ... Part of Germany, part in France, and we paid 30 million dollars annually. And my task was to get away from it. I traveled by Yeltsin's car, taking advantage of his location, I searched, knocked out money for equipment, for printing equipment with color separation. And that bothered me - Gaidar, Aven, who was in charge of foreign economic relations ... Yeltsin would write to me, but they blocked everything for me and did not give me the opportunity to receive this money. I am going to Yeltsin again. Yeltsin writes: "I know once again that you are interfering - I will drive you to hell with work!" He wrote such resolutions.
LB: And what's the use?
MP: So I did take it, bought it, we got this equipment, set it up and started printing books. And even England began to buy textbooks from us, France, all of Europe. This is my achievement and I am proud of this business.
LB: You write that the main power that controls us is B'nai Brit, that is, the world government, which is concentrated in America. And if so, in what role are our rulers? What are we going to scold them if they walk, as they say, "under the hood"?
MP: We have to blame ourselves — for choosing such people, we trust them with our country. Today, our Russia is similar to the Flying Dutchman. "The Flying Dutchman" - I just read, "Lyubov Orlova", a cruise ship that was sold to the Chinese, I think, for scrap, and they dragged it on a cable. On the way there was a storm, the motor ship broke away and now drifts across the ocean. In the fog you will run into him - you will perish. Today it is the image of Russia.
LB: I read how you call to unite - well, here, in this book, "The Evil Spirit of Russia" - "unite, speak, do not buy from these ones, do not watch TV programs ..." But how can anyone to combine in today's conditions! When poor Kvachkov with a crossbow and with the second "old man" fell into the category of terrible extremists and rot in a prison! Chubais publicly, insolently, "planted" the first time for Kvachkov for nothing. Did the people rebel strongly? Journalists talked, pee ... And so what? Here we are sitting alone.
MP: When a person's boil swells and starts to poke his fingers at him, the pain is terrible. These are the questions - it pokes in boil. Very painful, because it is "in the top ten." I recently had an informal meeting with one of the major Kremlin officials. I also say to him: what are you doing? You push the country to civil war. And he replied: "Mikhail Nikiforovich, come on, tree-sticks! You are an experienced politician! What is a civil war? We spoiled the village, we destroyed it, there was no one to rise there. The working class itself is not particularly present now. And those people who will now be thrown overboard are 16 million people from single-industry cities, where enterprises are closed! Medvedev suggested they all go to the Far East! In the taiga, are they going to build something? They will be thrown away - that's all! Who will lift? And in order to unite the masses, raise them and throw them into the confrontation with the oligarchy, there must be leaders and leaders. And we cleaned all of these and left no one. Therefore, bullshit! What we want, we will do with Russia, choose to the ground, to the skin, and "merge" from here. And here you die. " This is the answer to the question. It only remains for me to say that in my heart there is some kind of hope anyway, that now I would unite, would do something ... ...
LB: Are these dreams such?
MP: Yes. And in fact - of course, I, as a person who has lived a long life, I see that this will not be damn. I see that Russia has no future, that we are dying, that the nation as such disappears, and all the crap that accumulates about which you write is the people who have accumulated it. We do not want to think about our future at all - as it is, let it be so.
LB: Do you agree or not that the most important thing today is why there was such a bloody massacre for this Ostankino tower? Because the people only with the help of this foolish and disunited, and turns into cattle. After all, it was not without reason that they laid it down, scooped so many people there! I know one very talented "Pravdista", you also know him, he later left Pravda, Snegirev. So he wrote a book, "Red" is called. He was present when these ordinary people were shot, he saw how it was organized, such was the blackmail. He says: there are all ordinary people, and they shot at doctors, journalists. They killed his Irish friend ... I wrote in Pravda in '89, when the "democrats" shot Ceausescu: guys, do not forget how they captured the television center in Romania! Addressed our Heights: hold the Ostankino "needle" in your hands! In response, it came from Moscow
News
", Or from somewhere else, they say that Belyaeva threw a tantrum there? Who needs this Ostankino "needle"? I still remember how the liberal tusny in the person of Maximovskaya shared her joy: this is how we all came together and captured the television center at once! Mikhail Nikiforovich, what were you doing then?
MP: In October? Nothing. I have been out of office already, gone, since July 93 of the year. In May, the 93 of the year the Constitutional Court decided on the unconstitutionality of the FICA, which I presided over. And it was decided to eliminate it. We stopped paying money, and we eliminated it. I applied to Yeltsin on July 1. True, he held me, did not sign ... ...
LB: How could you work with him? You're a real man, so deep, knowing everything ...
MP: And I did my job, sorry!
LB: But look what happens! Here I am, a fool from an alley, I saw this lying Yeltsin on the tribune - that's all! And you saw it in different versions, in the most awful!
MP: Did you read how, before Yeltsin, in 88, the country was collapsed on purpose?
LB: But Yeltsin is an alcoholic! What could be worse than an unmanaged alcoholic?
MP: Others are much worse. Therefore, we supported Yeltsin. But then we did not support him! You say - television. And who should be engaged in television? In order for our television to be Russian, Russian, I struck Slava Bragin, the chairman of the Ostankino television company, there. Russophile such!
B: And what did he do, who was he? PhD or what?
MP: He is not a doctor of science. He was a journalist in the Tver region. Then he became secretary of the party committee of the plant, then became a deputy of the People's Republic of the RSFSR and headed the Committee on Information Policy. Together with him, we "punched" the law on mass media. We "punched" him!
LB: And the result?
MP: We put it: Glory, lead! Dial people, give all the "poznerov." But he did not manage a damn!
LB: But could he cope when it was a long-organized, united sharaga?
MP: And then what do you suggest?
LB: I do not know. I came to you.
MP: He could, of course. He took one, second, third, I forgot now the names. And they - once, and ... ... So, Slava Bragin, instead of taking television under control ... ... I come to him, and there ... barely removed Yegor Yakovlev from there. There have always been monitors, six monitors stood on the "Orbit". The first lane, first goes the Far East, then - Transbaikalia, Western Siberia. And, of course, the chairman should watch what goes there. Slava decided that he didn't need these monitors, he removed them all, bought pictures and hung them there. I come and say: "What are you doing ?!" "And why are they needed? Everything flashes there ... ... And ambassadors from all countries often come to me ... ... "
LB: And how could they put such a fool ?! What, no one else was there?
MP: And whom to put? He was the most-most with us ... ...
LB: Yes, I don't know who is the most-most ... You dragged from obscurity Oleg Poptsov, who was absolutely not respected in the writing world, who dashed off a two-volume book, clung to Yeltsin ...
MP: This is Balka Kurkova pulled out. I did not know him.
LB: Well, what about Bella herself?
MP: This is another matter.
LB: Come on! Even worse this Bella Kurkova! You entered into some kind of relationship with Gerber ... It's a horror one! And she is still on screen! I recently read it, she reasons, - they published it in some kind of journal, - she again says: Russian has anti-Semitism — genetic.
MP: I "attached it" here ... ... In the book ... ... Before I appointed Glory there, I thought to put a guy from Sakhalin there. I came to Yeltsin and said: "Let's put it on." He says: "Okay, come on." It is up to Bragin, before Poptsov. Then he apparently said it in the family, flowed out there, and he said to me: "A group from Ostankino came to me, Posner was there, others, and said that we would organize a strike if you did. Can you imagine if television organizes a strike, what are we left with? "
LB: But this is blackmail!
MP: Pure blackmail.
LB: Why are they allowed to arrange such blackmail? And regularly?
MP: Yeltsin was afraid of all this. I am telling him that let's throw them to the hell out of the dog, let the television work for a fortnight not as it should. Now, what kind of television? As they say, "bread and circuses." They have plenty of bread - they have robbed the whole country, built it for themselves, now they need spectacles. They made a spectacle out of television — two parables, three whims. Now they make a spectacle of the sport. They buy themselves gladiators, athletes ... ... There was before, with the same Gorbachev, bureaucratic lawlessness, but not the same! And if the people knew that we would come to the current bureaucratic terror! And we, the "romantics", really tried to protect the people's interests, to remove officials from the road. When I worked in Pravda, up to 30 thousands of letters came to my exposing article.
LB: I was asked to ask you, is Chubais alone to blame for the privatization of thieves?
MP: Chubais decided nothing at all. It was Yeltsin who decided it. Yeltsin and Filatov, First Deputy Chairman of the Supreme Soviet of Russia, Khasbulatov. And he had a grouping: Krasavchenko, chairman of the Committee on Privatization, etc., who then also worked in the Presidential Administration. And there was another one, I forgot the last name. And when they made a decision, then the fuss was in the Duma, that is, in the Supreme Soviet, some were "for", others were "against".
LB: No, we are talking about registered vouchers. At first there was the idea of ​​nominal vouchers. And, as they say, Chubais alone was the one who lost the job.
MP: No. Then a decree was issued, Yeltsin signed it, on non-nominal vouchers, that is, in violation of the law adopted ...
LB: So he acted like ...
MP: Like a rogue.
LB: To whom do we erect a monument in Yekaterinburg and guard it?
MP: In my opinion, without question, it is clear to whom. And who now put monuments everywhere with us, who are glorified - thieves and swindlers. But I will answer your question. He signed a decree, and this decree should have been considered at a meeting of the Supreme Council. And they should have just knocked him over. But it was closed Krasavchenko and Filatov in the safe by agreement.
LB: With Yeltsin?
MP: Yes, with Yeltsin. And when seven days pass and the Supreme Council did not reject, it enters into force. After 7 days they opened it, this decree.
LB: Why didn't they sit on the dock?
MP: But because we have no society, no public opinion, no nation ...
LB: But you, in the book "Evil Spirit of Russia", are a very hard Russian nation — because it is sluggish, docile, patient, weak-willed ... But how did he, so weak-willed, still endure such a war?
MP: You see, because what happened? Not only because the Russian people are limp, there are other peoples, say, Norwegians - they are also northern people. Do you remember how they owned the world?
LB: Varyags?
MP: Yes, the Vikings. They owned the world, because their leaders appeared. The Stalin leader appeared among the Russian people - and we ... ...
LB: Tell me, until what time they will indefinitely stint Stalin? If there is no Stalin, maybe, if we remove him from the use of pozners, Gozmans and others, then by what means will they then prove that "we live in enlightened time"?
MP: They will find it because they are such people ... I want to answer the question and come up from a distance. That's when we started all these restructuring, when we supported, when we went to democratic reforms, we then thought to improve our system ...
LB: But do not break!
MP: Do not break, no! It is like a house. He curled up, all that, you need to fake a single layer of logs, remove the rotten ones, and so the country is being repaired. But when the Soviet Union was destroyed, we recovered from the era of socialism in the era of feudalism. I call it monopolized feudalism. Each secretary of the Central Committee in the republics remade the republic into a country — Kazakhstan, Uzbekistan, Kyrgyzstan, Ukraine, and so on. And everywhere one model was formed - this feudalism is monopolized. And one model we are developing. There is no human right, there are some clans that are above, and there is a mass that is being destroyed. This model can not be eternal. She devours herself — I wrote in the book — and comes to self-destruction. I said that a state that found itself in the hands of a criminal gang itself becomes a dangerous criminal. The Duma, which constantly laws anti-people, and so on and so forth ...
LB: Where was the KGB? Why, by the way, did not the KGB come out when they broke the monument to Dzerzhinsky? When Borovoy, it is not clear who led this action? And the KGB, Lubyanka, having closed the windows and doors, endured it all. Why?
MP: They at this time considered their grandmothers.
LB: What are the "grandmother" in the KGB?
MP: They have a lot of attendants there.
LB: Where from?
MP: They carried gold abroad.
LB: Are you responsible for this?
MP: I answer! I wrote about it in a book. They brought gold ... ...
LB: But not all the same?
MP: Naturally, not all. Guide. Because Medvedev was with them, then he left ... He left immediately for New York, in the USA, organized a bank for himself there ... ...
B: That is, the KGB has decomposed completely? Or how?
MP: The KGB generally participated in the defeat of the country. What did the party leaders and the KGB do? After all, we grew up on the inertia of the Stalinist breakthrough. But Stalin had the same willpower, and he had thoughts about the development of the state. He had enough power for that. So, we were still walking for a while at the Stalinist breakthrough, we caught up and overtook the United States. Second place occupied by high technology in the world. But from the middle of the 70-x began to throw money into the void because of the "fifth column", which was sitting in our State Planning Commission. Then money was spent on building roads in Urengoy, cities in the North, pipelines were dragged, and so on. We threw in there about 70 billions of dollars at those prices yet. It now costs about 5 times more, that is 350 billion dollars. It could be invested in refineries ... ...
LB: Do you mean today's endless pipes? When Russia is crucified, when are pipes connected to it, and everything it can be pumped out of it?
MP: Yes, these pipes were made then. 20 thousands of kilometers of pipes were laid. And plus to this there were two huge pipes laid, Urengoy-Pomary-Uzhgorod and Urengoy-Western border. This is forty meter diameter, for sale. Brought to the border. Now we will sell oil and gas, especially gas, because we knew that the era of gas was coming, and then we would start building schools and increase pensions, wages — the state would begin. But they, the "fifth column", were waiting for this. When we brought everything to the border, they said: "We don't need a country, let's eliminate it to hell." Chernomyrdin, then, Vyakhirev - the whole group and the KGB were, who knew, especially the foreign KGB. They waited, now they decided, let's destroy the country and privatize it all, put it in our pocket, not the country. And they did it! That is, we then laid everything out of our pockets, and now it went to some Miller and some Abramovich, - hundreds of billions of dollars ...
LB: Scary. Meanwhile, there is such a TV program, you know, RBC, Prokhorovskaya, where the fierce Russophobe Irina Prokhorova is scorching our history with might and main, and no one stops her.
MP: It does not go beyond the framework of those programs that we have on television, the first program, RTR, and so on. It's all the same, it is one ideology of destroying memory, destroying a country, humiliating people.
LB: It declares, by the way, that the Russians do not know how to live in peace with other nations, and now the idea is this - according to many programs it goes in the liberal newspapers, as if our leaders have wondered why we are empty now villages, towns and cities taken separately. In our country, it disappears a year, it just disappears, more than 100 thousand, that is, a whole city. It is not known where children, old men, women, and women disappear. So, it is necessary to settle them migrants. Do you think they will bring this idea to life or will it stop?
MP: This is the decision of the Bilderberg club! Bnay Brita! This is the structure of the Committee-300, the world government. It belongs to the eleven largest bankers, privately printing dollars. The only one who wanted to drag this system under the state and began printing one-dollar bills is John F. Kennedy. For this they "crashed" him. In general, we are going to fascism, the whole world is going to fascism, and we are including.
LB: That is, who will head it all? Zion fascism?
MP: Yes, Zionist-Fascism. You say - Prokhorov ... Let them answer with their Michael for "Norilsk Nickel", as they privatized it. This is solid theft, they have to sit for it!
LB: Do not you think that now there is a self-repetition? In those years when we were engaged in "exposing", we opened ulcers, boils, and thought that there, at the top, they would surely listen to our journalistic arguments. That is what the people are dissatisfied with and what they would like from the authorities. But who listened to us! But now the liberals, all these mink coats "intercepted wand." Depict popular opinion. And Navalny is right there ... So, are we going to the civil war?
MP: Yes, we are heading for a civil war.
LB: Why are they, liberals, guest workers pulling here? In case of anything, will these people be protected? People?
MP: No, they will protect the power! You know, when there were presidential elections in 2011, troops sent troops from Chechnya here ... I have a neighbor. He is a builder, he builds houses. He says to me: "I was given the command to distribute, place the fighters with machine guns, grenade launchers, machine guns ... ..."
LB: What do you mean ?!
MP: What do you think? This is a civil war! They are preparing for it, they provoke her!
LB: Why do they need it? So, they are confident in their victory?
MP: They are sure, it has not yet boiled. They fear when it boils for real. And we are going to this. We all have one model, we are developing one model at a time. But resources end in each state differently. Previously, resources ran out, say, Kyrgyzstan, because it has neither oil nor gas. Now Ukraine has run out of resources. Then Belarus - but Lukashenko's "father" is there, he is a good fellow.
LB: Yes! Here is the leader! And not your Bulk!
MP: And Navalny is good - he knows how to "scratch" everyone.
LB: Come on! All journalists, won "Komsomolskaya Pravda" as "scratching"! And "Arguments of the week"? The same Uglanov?
MP: I see how gradually he gives up. I know Andrei, a good guy, but he was afraid even to give a review on my book, he says: "They'll bring me a cockroach in the box right away, release it and close it for two or three months." Sanitary and Epidemiological Station. Noticed a cockroach, the act was drawn up and closed! That's the end of the newspaper! Therefore, all silk go. What is now in Ukraine? They are the authorities that turn the neck, the end to it. But our power has grown together with the capital, and there did not have time to grow together. Then, we have gas and oil, so we hold on for the longest. But we are going to a civil war ... And I think that the option will be different - the oligarchs will change their power.
LB: And why does she not like them? With her squad of billionaires won to what height rose! What is she bad for them?
MP: Overload. When overloading cannot raise the ball, the ballast begins to drop. She gave them everything, they no longer need it. And the ball should fly away and not knock on the rock.
LB: And who do they have in the stash? Who would they go there for?
MP: They are preparing, for example, Prokhorov the same.
LB: But this is "Courchevel with the Girls"! And do not stop! Like his sister Russophobia! She still claims to be the mayor. What does it mean? Isn't that a comedy?
MP: You see, we have everything - comedy. When you look at the work of the State Duma - this is a circus of some kind, not a government body! If you look at the Kremlin, they don't do anything serious.
LB: And who is the chief circus artist? Who is in charge of everything?
MP: Chubais. And they all obey him. So, I return to this topic, the change of power. Not physical elimination is an extreme option for them - or maybe another elimination option, just avoiding power when it voluntarily receives an indulgence: we do not judge you and all that ... ...
LB: Just like with Yeltsin?
MP: Yes!
LB: And where did Tatiana Yeltsin go?
MP: She lives in Austria, went there.
LB: She loved Russia so much!
MP: She never loved her. She hated her.
LB: So what should an ordinary person do under these conditions?
MP: I still finish. They, the oligarchs, said to Yeltsin: you, dear, sick, you have a heart, you need to do the operation, you can stumble, fall at any time ... ... Come on, carry out Operation Successor. Do you think he gladly did it? He hated everyone, he terribly loved the power! And he had to go for it. So now you have to go in order to reduce the heat, which is still growing. On the one hand, it seems that the whole village has become extinct, drunk, but there is still some strength. People can rise. Suddenly ... ... Therefore, they can arrange such a top coup to put someone of their own.
B. And at this time they will be chattering, that here, they say, have brought, and now, they say, Russia will get up from its knees ...
MP: I told you that it is necessary to carry out the operation of desvolochization in Russia. Moreover, the world is beginning to rise a wave against Russia, against our nouveau riche. Look, in London 200 of thousands of houses were bought by ours, in Italy they bought, in France, in America. Everywhere prices are rising for real estate. Finland has banned Russian citizens from selling. They raised property taxes because of our ...
LB: And nevertheless, you say that these our nouveau riches fear nothing for anyone. And Stalin?
MP: But because they overestimate themselves. I lost the thought right now ... ... When this Zionist group seized power in the Soviet Union, the same Trotsky ... ... By the way, Tukhachevsky was there, they also shouted that it was an honest, decent murder ... ... No shit Like this, they were really preparing a coup, they wanted to remove Stalin in the thirties. That's when the Zionist group, I also wrote in the book, how they were Russian, the officers' wives were put in GULAGs, they walked in leather jackets, with Mauser, and beat them. Lev Nikolaevich Tolstoy's daughter Alexander was sitting there ... ...
LB: Sat, but nobody beat her.
MP: Yeah, you read her memories that she wrote in Japan! Why do they hate Stalin? They will always hate him to death, because he twisted their horns and returned the power in Russia, in the Soviet Union, into the hands of the people. And when he shot, but it was impossible not to shoot, they all got bogged down in bribes, in murders and so on, and he immediately sent them to Kolyma. And if today we are going to this, if today a nationally oriented group came to power ...
LB: Do you mean Russians?
MP: Yes, exactly. But not such Russians as Chernomyrdin, for example. There are Russians - the worst of them all. Like Yeltsin ... ... The main thing is honesty. And now, too, will have a million and a half ... It's just inevitable that ... The property will be taken away. At the same Abramovich ...
LB: So that, as written in the Constitution, everything belongs to the people? But now our property is owned by many foreigners. There are international laws under which we have no right to nightmare them.
MP: We wanted to put shit on these laws! Because they came up with them for themselves. There is 20-th article of the UN Convention, which forces all countries to accept it and fight corruption, and they ...
LB: And how can I leave you in such a mood that everything ...
MP: The people must come to their senses. And if he does not wake up, then he has no future. Do you understand? Now it is an occupation regime. Occupation of Russia. It is not by chance that the Kremlin signed a federal law on the status of forces. The first NATO base was built in Ulyanovsk, now it will be more. If the people rise, NATO will shoot at him. And you all think why the Kremlin does not call to itself the assistants of patriotic, selfless journalists ... In general, we and those people who sincerely stand up for the interests of Russia, under these conditions, are marginalized, outcast. And we should be less and less.
LB: So it goes. So Khakamada said. Vaughn and Vladimir tele-Solovyov praised General Kulikov in his program the other day for taking an active part in the destruction of the "fascists" in 1993, that is, those who tried to defend the people's power.
MP: These are all hangers-on with the oligarchs. We, the most important thing, proclaim the strategic line with you - the country is heading for civil war. But the same oligarchy should not allow this. They must maneuver. They love to maneuver. And we need to seize the moment when they will maneuver ... ... Well, not us, but young people, so that in this fuss, again, we will not allow everyone to "repaint" urgently. We are talking about Zionists, denounce them. And who is Zyuganov, as he "repainted"? And how are other communists who, as they are only elected governors or mayors, immediately hand over a party membership card and begin to pursue a policy of "United Russia"?
LB: So who then do we have? Who can be a leader?
MP: Yes, no damn no one! That's why I say: people, shudder, you are dying, you have been led to the den, blindfolded and now they are tying your hands. And you will be pushed into this moat, teeming with snakes ...
LB: On this merry note, and silence ...
(The conversation is published in abbreviation)
From the book "Power in TNT equivalent"
"Insistently digging under the Kremlin swindlers Lev Yakovlevich Rokhlin. A day before the murder, he said in an interview: "I have enough documents to say that some officials from the presidential administration are working for foreign intelligence. I am very close to making these documents public ... "
"The United States CIA appreciated the outstanding contribution of Anatoly Borisovich to the defeat of our country's economy and invited the Smotrina to a meeting of the executive committee of the so-called Big Government - Bilderberg Club ... Big Government is the" 300 Committee "uniting the richest people on the planet. Winston Churchill, Henry Kissinger, the presidents of the United States and Canadians, the Rothschilds and the Rockefellers, as well as members of the royal families of Great Britain, Norway, Saudi Arabia, Denmark and many others were included in their time ... So, according to some closed sources, The Bilderberg club - following the go-ahead of the Bureau - entrusted Anatoly Chubais to be in charge of Russia's leading cadres. First of all, for presidents and prime ministers. "
"When Stalin in May 1945 of the year spoke a toast to the Russian people at the Kremlin reception, a part of the society perceived the words of the leader as a cynical trick. "Our government," Stalin said, "had a lot of mistakes, we had moments of desperate status ... But the Russian ... the people had unlimited confidence in our government ... The Russian people believed, tolerated, waited and hoped ..." There is no place to argue about Stalin's measure of responsibility . Not talking about it. Although I can say that without Stalin we may have lost in the war (the whole of Europe fought against us) much more people. And the victory in the inner-party clashes between Leon Trotsky and his international mafia would have rotted tens of millions of our compatriots in the GULAG. "
"We were born to make a fairy tale come true", "The fate of the people depends on each of us", - on these and many other similar slogans, on films about dying for the sake of comrades, entire generations of exceptionally energetic, proud and purposeful people grew up.
I am not the only one to believe that by the middle of the last century, the Russian ethnos began to reach its highest form of drive.
With the policy of equality and justice, the authorities fed their people with powerful streams of odic power, and even appeared willing to make sacrifices for the ideals of solidarity and other good ... And the Russian people were drawing neighbors from the USSR out of poverty and syphilis. Today, the same Balts call us invaders and threaten Russia with billions of claims, allegedly for damage. What damage ?!
In what condition did we take them to feed in the 1939 year and in which we were released with peace in 91? For example, Lithuania left us the most flourishing of the Baltic republics - during the years of Soviet power, Russians built there large enterprises around 200, a nuclear power plant, 24 thousands of kilometers of paved roads, theaters, whole cities. Before joining the USSR, their former president Grinius announced the results of a survey of peasant farms (there were no workers due to the lack of industry): 76 percent of residents wore wooden shoes, 19 percent of women did not use soap, and only 1 percent had nightgowns, lice were in 73 percent of families, and 19 percent of children died before the age of one year ... "
"I have seen not only in the outback a multitude of young people who have on their faces the seal of hatred and revenge. My generation, with its cannibalistic reforms, left them without soil under their feet, without a future. Someone got drunk, some of the young ones died from drugs, and these - perhaps hundreds of thousands of them, perhaps millions - interrupting themselves from bread to water, stubbornly holding the wrestling stance. Are waiting. And at the same time they scoop the eyes with their heads, which will be okhazhivat reinforcing rods.
I know many mature people who like the current regime in Russia very much. They are top-rated actors and directors, zombies personnel, merchants, racketeers, cops, officials of all levels ... They were given the opportunity to live at the expense of others, rob, richer lies, speculate, fearlessly abuse their official position ...
When Adolf Hitler came to power and began to lull the nation with demagogy about "rebirth" and "rising from its knees", he also began to reinforce his words with handouts to different groups of the population ... The Fuhrer was sponsored even by Jewish industrialists, for example, Fritz Mandel and Reinold Gesner, or Jewish Deutsche Bank's bankers Oscar Wasserman and Hans Privin. They also wanted the Führer to direct the energy of the underprivileged youth against the "red-laced" fighters for social justice. And Hitler released the energy of hatred, creating assault troops. But they did not distinguish between "Krasnopuzhyh" from blue and even light brown. Those of the Fuhrer admirers who dodged reinforcement bars ended their lives in Auschwitz. "