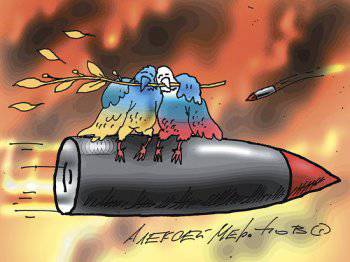 Hello, friends! I am about the events in (on) Ukraine.
I will say right away that I largely disagree with the internal policies of the Russian authorities and do not accept most aspects of Russian reality. Therefore, I ask you not to assume that these lines are written by a frantic hurray-patriot. I just love my country, I respect all my fellow countrymen - from Kaliningrad to Nakhodka, from Grozny to Murmansk. But I hate any criminal, nationalistic and simply gopnichesko-hooligan scum. Just want to speak and then find out your assessment of my words. So…
1. At the moment, Russia is being tested for the last time by the strength of the forces of the West. Previously, due to weakness, Yugoslavia was surrendered. Not much then Russia snapped. For the same reason, when those former "friends" of ours who were not going to be taken over by NATO under the treaty entered Russia, Russia, again, limited its anger to not very effective statements.
2. Now the political picture is much more alarming for Russia (for us, that is). In a neighboring state, on the shoulders of a nation that was tired of state corruption, came to power forces that can be absolutely comparable to those that started in 1933, first gently, and then raping their country harder and harder ... Well, all of you, I hope
history
at school passed.
3. God forbid, the current Russian leadership will not stop the corruption of the orgy in their country. There will be a similar Ukrainian disaster with incredibly more serious consequences. I really don't want to repeat the horrors of 1917-1923, and what happened next.
4. Now all sensible people understand that the United States, being predators, sometimes eat carrion. And carrion is the Maidan biomass, which declared its values ​​using the methods of the Nazi SA attack aircraft.
5. For the second time, during the Olympics, Russia is being provoked to a military operation. In today's world, this is not an accident. Maybe enough of my country to experience the Olympic calm?
6. There is a situation when Russia, for the sake of its own survival and the survival of its citizens, must begin to collect the previously lost native-Russian lands. And do not be afraid to show your teeth to your "strategic partners." I really do not want my grandchildren to be born. If Russia gives up weakness in relation to the Crimea and again begins to sign with the West any more or less unprofitable agreements for itself, this is the end. If Russia does not break the teeth of the West with the Crimea now, it will only be to wait that in 15-20 years in the Russian Armed Forces AKM will become an 5,56 caliber.