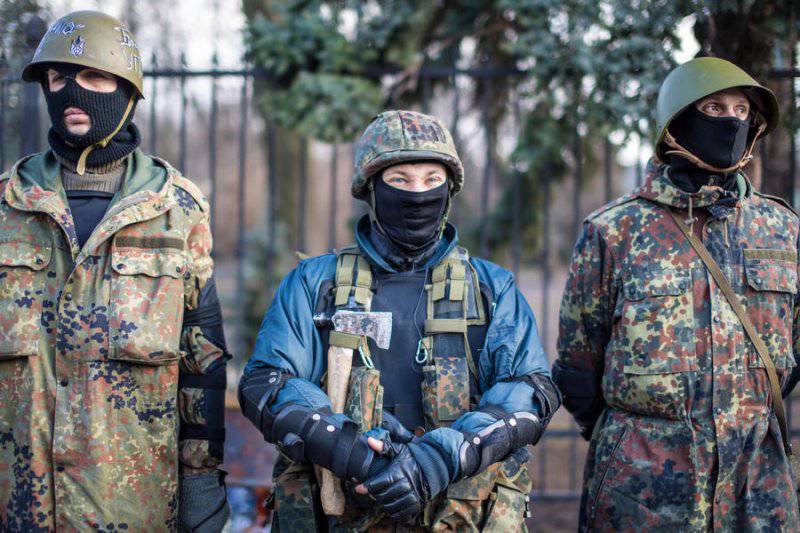 A group of intruders who last night attacked a bank in Kiev, released on freedom. The Ministry of Internal Affairs of Ukraine reported that "there are no grounds for their arrest." It turned out that the attackers, who called themselves "warriors of Narnia", were active participants in the recent protests in the center of Kiev. According to them, they came not to rob, but to protect the bank.
The attackers who attacked the branch of Ukrbiznesbank in the center of Kiev, were released. "The identities of all 38 people are established, these are citizens of Ukraine. There are no grounds for their detention.
Weapon
, which they voluntarily surrendered, will be sent for examination, "ITAR-TASS quotes the words of the police representative.
"Night visitors explained to the law enforcement officers that they were" Warriors of Narnia ". Some of them said that they came to protect the bank, and someone just passed by and was in the financial institution by chance, "the guard added. Now law enforcement officers interrogate bank security and study videotapes from surveillance cameras.
This morning, the press service of the Main Directorate of the Ministry of Internal Affairs of Ukraine in Kiev announced that 38 had detained armed individuals who had attacked Ukrbiznesbank's office on Moskovskaya Street at night. The report noted that young men in camouflage and masks, burst into the bank, were armed with batons and knives.
The bank guards managed to close in a well-protected office building and call the police. Three outfits of the State Security Service arrived at the scene, including the fighters of the special forces "Titan" and "Falcon". According to the press secretary of the State Security Service Svetlana Pavlovskaya, three Kalashnikov assault rifles, around the PM's 20 pistols, one Saiga hunting rifle, as well as batons, knives and a Bulgarian, were seized from the attackers.
Recall that the local media have repeatedly mentioned the fighters of "Narnia" during the battles with "Berkut" and during the seizure of the building of the metropolitan administration. Earlier, in self-defense of Maidan and in the "Right Sector" they denied the involvement of their people in seizing a bank on Moscow.