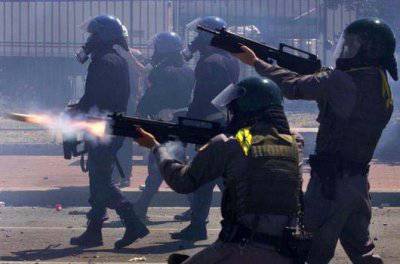 In 2008, as a student of the Russian Federation, he lived temporarily in the United States under a student exchange program. The conflict in South Ossetia just flared up. Well and, of course, actively monitored
the news
in which the US media showed their people the tyrant Putin, who spits on the laws and does whatever he wants.
The peak of the impudence of "Adolf Putin" (as the press dubbed him) was a flagrant armed invasion of the territory of South Ossetia with the subsequent destruction of the civilian population. And everything would be fine, unless you put one fat BUT under all the news of the US media: there are lies everywhere!
As it turned out later, Georgia FIRST subjected the capital of South Ossetia to massive shelling, after which it attempted to seize South Ossetia, and then the Russian president announced the start of an operation to enforce peace in the conflict zone. The result is known to all. But the truth is not needed by anyone, and the West has forgotten what and who said.
Today, the conflict broke out in Ukraine. And again "Adolf Putin" appeared in foreign media ... Regarding the Crimea: why does the West think that Russia planned to take the peninsula before itself? Did not anyone see a crowd of thousands of people with placards, in which the expressions of the citizens themselves about the accession of Crimea to Russia are written in black and white? Or, perhaps, Putin made all the people of Crimea join the Russian Federation and distributed a sign to everyone to his support? Or, at the request of more than 90% of the population of the Russians of Crimea, did the president have to flee, fearing the wrath of the West? How correctly, only the West knows :)
Then it will be as usual, everyone reluctantly understands that Putin was right, but if so, then nothing could be said and didn't happen, it is necessary to forbid to mention it in the news that it was, it was, it will be quickly forgotten! Only now it will be forgotten by everyone except the countries in which the conflict occurred.
Perhaps I'll reveal a secret to someone, but stirring up conflicts is just part of the US economy. Confusion - this is what you can earn, because the money does not smell!
We take the country and look for pressure levers, work out possible defenders and leverage pressure on them too. Enlist the support of the parties and invest the initial capital, which should more than repay itself. The rest is media work.
Everyone shouts about the illegality of the use of force against fellow citizens. Oh, here, where, where, and on the territory of the States there are constantly conflict situations that instantly go to zero due to brute force, including the use of firearms
weapons
and mass detentions. Almost every morning I turned on the news and heard: "Tonight in the Bronx, 25 African Americans were shot dead and 70 were detained while the suppression of the uprising ... To the main news ... The US dollar has grown ..."
There can be no peace without war, as long as it is beneficial to someone.