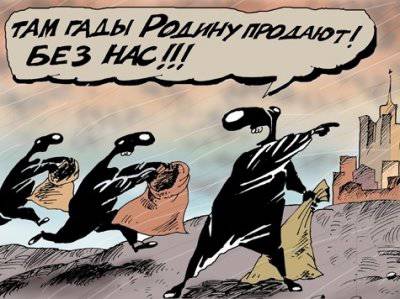 Difficult time gives rise to uneasy thoughts. All attention is now focused on the Crimea and Ukraine. And, if here everything is clear with regard to the Crimea, then everything is ahead with Ukraine. But, who does not look back, he rarely moves forward correctly.
Today, our people demonstrate a rare unity in the Ukrainian question. In word and deed. However, in the family is really not without a freak. Alas. And this is our problem, whatever one may say.
I'm talking about those who are trying to support the Maidan. Well, on the Internet, he will not stand it. I'm talking about those who are trying to take to the streets with slogans in support of the gang that seized power.
My city is Voronezh. He is somewhat calm. Even a bit like a swamp ... The times of the "red belt" seem to have sunk into oblivion. And I was very surprised when we had attempts to hold actions in support of the Maidan.
And well, when about ten people gathered with posters "We are for peace." Members of the "Great Fatherland" party went out against them five times more — and either the rally or the picket did not take place. But when a few young people at the Monument of Glory began waving Ukrainian flags and shouting "Putin, hands off Ukraine" ... This doesn't seem to fit into the bounds of decency. In Russia, at least.
No, the police arrived very timely, and the Protestants were taken to the station with minimal damage to them. So, crushed them slightly. But this is already the second call.
And about the Internet just keep quiet. Someone Alexander Yermilov places the following message on his VKontakte page: "If someone from my contact list supports intervention in Ukraine, believes in funding revolutions from the United States, I ask you to remove yourself from the list and no longer write me!"
And what is most interesting, he has a lot of followers. They are enthusiastically starting to post and "categorically approve", as one of my former friends V. Tsurgan. Formerly familiar, she became, however, a long time, but is not the point.
I was not lazy and went through the accounts of those who enthusiastically protect the Maidan. 1988-1995 of birth. The so-called "lost generation". But - our generation. Russian. And, I confess, it is alarming. After all, in fact, they are the same citizens as those who are against the brown plague in Ukraine. What comes out? I, tens and hundreds of thousands of people like me, the Duma, the president, are against what is happening there, and the bulk, Makarevich, Shenderovich, Sobchak, Kurgan, Ermilov pro.
To hell with Makarevich. He has already won back his own. I'm more worried about others. It is those who, in theory, should change us. Must, must. And they are for the Maidan. For European integration. For god knows what if you dig deep.
All for Vysotsky. According to Vladimir Semenovich.
And neither the church nor the tavern -
Nothing is holy!
No, guys, it's not like that!
It's not like that, guys ...
Yes, it's a bit wrong. We have behind us a whole lost generation. And we lost it. We, who survived in the lawlessness of the nineties, but retained such notions as the honor and dignity of a citizen of a great country. We are not kneeling in front of a green piece of paper with a portrait of an overseas peasant. We, who have not betrayed our country, have not gone to a place where it is easier and more satisfying, but with the stubbornness of ants, continued the work of reviving our country. They built, treated, fed, mined.
Our great-great-grandfathers defeated Napoleon. Our grandfathers beat Hitler. I am now confident that we will win over those who wanted to see in Russia a raw materials appendage and a herd of slaves. And I will see it. It remains a matter of little: to make sure that all this is not lost afterwards. And it is no less difficult. Because you have to deal with your own.
There are few of them. Their voice after the defeat of Bolotnaya Square is no longer a voice. Squeak But - they are. But it was they who burned people in Kiev. It was they who put those who survived in other cities on their knees. It's them.
I do not want to know what their ideals are. I do not want to know what their aspirations are. I've seen it all before. I know one thing: it's not too late, we have to fight it today.
History
repeatedly showed us that tomorrow may be too late. Otherwise, the moment will come when they hit us in the back. Yes, our backs are still strong and will withstand any blow. Our fists will be able to convince anyone of the hardness of our position. But time does not play for us, alas.
If we want a normal tomorrow, we must begin today. In any way: from belief to landing. And this is a very important goal for everyone who is a citizen of Russia not on paper. Too many wanting to put us on our knees. And the seeds, which they generously scatter, gradually sprout. And we are obliged to prevent these weeds from rising.
Anyone who cares can ask themselves the question: "What can I do today for the sake of tomorrow?" And give an answer to it. And to make one tiny step, one act, which can become a brick in the foundation of our victory.
I have already quoted the old Greek once, who said that the gods have a future on their knees. Suppose I do not believe in gods, but I repeat: I do not want to see the future on my knees. Anyway, to whom.