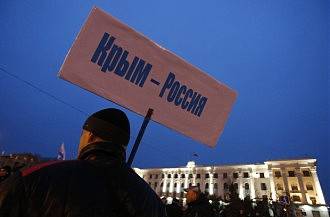 The German community of Crimea will vote for the accession of the republic to Russia, said on Wednesday the chairman of the Republican German Society of Crimea "Renaissance" Yuri Gempel.
"We fully support the holding of a referendum. And our ethnic group will vote for the first question - about joining Russia, "he said at a meeting of the Forum of Crimean Inter-ethnic Accord, ITAR-TASS reports.
Recall that the Autonomous Republic of Crimea and the city council of Sevastopol refused to recognize the legitimacy of the new government in Ukraine, and last week the Supreme Council of Autonomy made a principled and unanimous decision to join the Autonomous Republic of Crimea as a subject.
In addition, the Supreme Council of Crimea appointed a referendum on the status of Crimea on March 16. Two questions are put to it - about the entry of the Crimea into Russia as a subject of the Federation and about autonomy within Ukraine.
The City Council of Sevastopol also submitted to the 16 March referendum the issue of joining Russia and decided to join the city to the Russian Federation. The State Duma will consider a draft law allowing Crimea to join Russia after the referendum.
In addition, on Tuesday, the Supreme Council of Crimea adopted a declaration in support of the independence of the region from Ukraine and the intention to become part of Russia. The decision has already entered into force. After the adoption of the declaration of independence, Crimea ceases to be autonomy and becomes a republic.
According to the declaration, if the inhabitants of the region in a referendum decide to join the Crimea and Sevastopol into Russia, the Crimea will be declared an independent state with a republican form of government. As Konstantinov explained, the document is necessary to ensure the legal procedure for the region to become part of Russia.