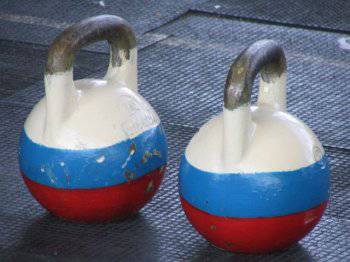 In a recent article, the respected Maxim Kantor warned us about the upcoming fashion for patriotism and that it alone would not make our life easier or fairer - "this will not affect the plundering of the country". There is something to speculate about.
Fashionless patriotism - a simple sect
Patriotism is slowly returning to political discourse, comes to life. A couple of years ago, he was driven by rampant propaganda of dislike for the Motherland on the most shameful backyard of public consciousness. Show it was not accepted. However, it is always harder to sit in reclusive areas than to be subjected to social rejection. And little by little the germs of patriotic thought and rhetoric began to break through the concrete of liberal dogmatism.
When did it happen and what became the impulse? According to my observations, the turning point happened in 2011, and the war in Libya was the impetus for it. Liberal propaganda in this case misfired, as the picture it proposed was too different from the facts coming from an African country. The moment came when silence became more difficult than hiding, fearing universal reprimand. And people began to speak, and not on someone else's order, but from the heart. Began a period of folk art. I myself have joined this work - and, to great joy, I found out that a lot of people literally no longer hesitate to say what they think. Thanks to their efforts, such materials (and they became more and more) began to spread in social networks and communities. Visual and easy-to-understand materials gave rise to a kind of fashion, gradually replacing the import-liberal assessment of events in Libya. This is exactly the case that the US military researchers recently wrote about - how the aggressive position of the minority, thanks to the correct presentation, wins a mass audience. In this case, there is no difference what underlies this aggressive position - a foreign grant or, as in our case, a keen desire to restore justice. The mechanics are the same.
You need to understand what is fashion in social networks - this is what is called a trend in the discussion. Do not confuse this fashion with the catwalk, where eminent fashion designers amaze the audience with impractical and fancy clothes. No, in our case, we have a place with steady trends that are quickly gaining supporters. Without creating such a trend or wave does not gain like-minded people. That is, patriotism as a mass phenomenon will never become such without fashion, because people tend to be interested and get involved in what is becoming popular and accessible.
Libyan
история
demonstrated that enemy propaganda can be opposed by small forces. Of course, no patriotic trend at that moment had yet taken shape, but a start was made and one front was won back. The events in Bolotnaya that followed in our country spurred the formation of a patriotic discourse - sprouts began to break through the asphalt already on the domestic political bed. The flywheel began to unwind, acquiring new forms of visual agitation and good-quality analytics ("However," became its main source). And today we already see millions of patriotic communities on social networks and the fact that our ideas are no longer marginal. Patriotism is already gradually "like any fashion, it is overgrown with fanatics, magazines, phrases, small and large rituals" (M. Kantor), but without this it would not have happened at all. For the final transformation into the mainstream, he lacks the generally accepted symbols and leaders, but this is a matter of time.
Of course, this phenomenon has its own side effects. In particular, fashion leads to the fact that they begin to imitate it, without going into meaning. Just because it is so accepted and do not want to lag behind others. However, this is not so bad. The ancient Greek philosopher Zeno, speaking of Pericles' ambition, remarked: "one pretense of virtue imperceptibly produces a desire and a habit for it." Similarly, people who have fallen under the nascent influence of fashion on patriotism, eventually penetrate to them and change their way of thinking. I suppose that this method of exposure is even more effective than forcible hammering.
Main victory ahead
Thus, we won the first important victory, but it does not make sense if we do not transfer it to real life. This is much more complicated, because in real life there is no ease of disseminating information that is in the virtual. In order for patriotism to become popular on the streets, more serious means than enthusiasm are needed, and the government cannot do without it. The state should let it into the public sphere through television and radio, media products, through the restoration of youth policy and other methods of campaigning. No, it is possible without all this, but then patriotism from our Internet will seep into life very, very slowly, risking, in the end, to dry out under the pressure of circumstances or the opposition of his enemies (they have not gone away).
Why do we need this second victory? In order for patriotism to begin to have a real impact on real politics. Now, dwelling in virtuality, it influences mainly the policy of the sofa. Little-known deputies are trying to play along with patriotic users, stamping strange legislative prohibitions that do not affect the policy of a large, adult. This is not enough.
If our sentiments encompass the majority, then the big politicians will not be able to ignore them. I do not want to say that now the government is not patriotic, however, obviously, using the sleepy state of society, it often does not consider it necessary to argue its important decisions. There is a suspicion that many important initiatives are not being undertaken by the authorities precisely because the society is not quite ready for them. Or, at least, specially trained people have the power to convince them professionally.
The second side effect of such a global return of patriotism to our consciousness is the appearance of careerists trying to make their lives sweeter on it. This is what Kantor writes about. But this is an inevitable effect, and is it worth being afraid of it? In the end, the popularity of liberalism probably also attracted a lot of careerists, who do not share his dogmas deep down, but liberalism has not lost its destructive power.
In general, the return of patriotism to the mass consciousness may not cure some of the minuses that exist today. Yes, you can steal and under the guise of slogans. However, we will receive many additional advantages, the main of which is the healing of the people's soul, deliverance from the severity of the inferiority complex and second-rate imparted to it. A competent ruler will take advantage of this boom in the interests of the country and direct the energy of the masses into a creative channel. Well, the illiterate - foolishly later. However, ideology has nothing to do with it.