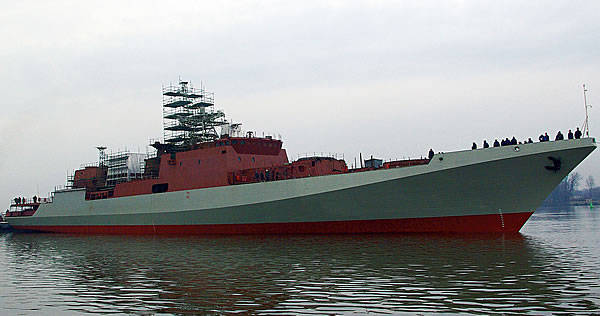 Solemn ceremony of launching the Admiral Grigorovich patrol ship of project 1135.6, intended for the Black Sea
fleet
(Black Sea Fleet), will be held on Friday at the Yantar shipyard in Kaliningrad, informs the Russian Defense Ministry.
"In total, six ships of this project will be built for the Black Sea Fleet of the Russian Federation. By the end of 2016, the ships will alternately, after testing, begin to enter the Black Sea Fleet," a spokesman for the Russian Defense Ministry's press service and information department told the Interfax on Wednesday.
According to the Chief of the Navy, "guard ships of the 1135.6 project will be an effective replenishment of the surface forces of the Black Sea Fleet and will expand the range of tasks that the Black Sea Fleet performs in its operational area of ​​responsibility," the source said.
"The Navy High Command noted that the ships of this project have universal rocket and artillery weapons and modern radio equipment for solving the tasks of anti-submarine defense and air defense," said the representative of the Ministry of Defense. [Center]