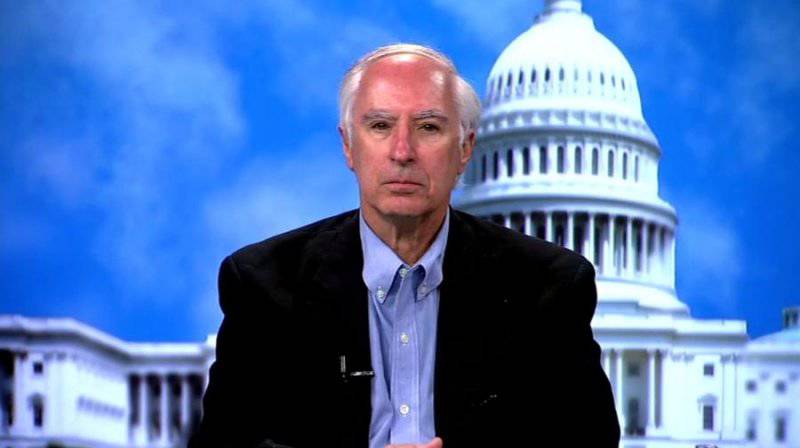 Jeffrey Steinberg, the Executive Intelligence Review Editor, on the RT channel expressed the opinion that the legitimate government of Yanukovych was overthrown using force, including members of the most extreme radical groups. This means that the United States, in accordance with its legislation, has no right to provide financial assistance to the state, the legal president of which was overthrown as a result of a military coup.
"Yanukovych is right that, according to the laws of the United States, all aid from the United States should be stopped if the legitimately elected government was overthrown as a result of the use of military force or other type of action," said Jeffrey Steinberg.
Jeffrey Steinberg drew attention to the policy of double standards in the performance of the United States.
"This law was used when President Mursi was removed from power in Egypt. Then there was a fierce debate in the Obama administration and in Congress about whether to call the situation a "coup". Ironically, John McCain was one of the main proponents of stopping military aid to Egypt. Now he holds the opposite position, "says Steinberg.
"The law was applied in cases when it was necessary for the administration and its allies in Congress, and it was ignored when faced with the inconvenient truth. In the case of Ukraine, no one denied two things. First, the government of Yanukovych was legally elected. Second, it was overthrown with the use of force, including by members of the most extreme neo-Nazi groups, "continues Steinberg.
"President Yanukovych has a perfectly legitimate right to ask questions in this situation. He wants to bring the case to the US court and to the US Congress, "the editor says.
Recall that at a press conference on March 11, the legally elected president of Ukraine, Viktor Yanukovych, announced that he intended to appeal to the US authorities to make a legal assessment of what happened in Ukraine.
Earlier, the Foreign Ministry said they also drew attention to the words of Viktor Yanukovych that the plans of the US administration to allocate a billion dollars to 1 to the current authorities in Kiev run counter to the current US legislation, Interfax reported.
"Indeed, in accordance with the amendments made several years ago to the Foreign Assistance Act 1961, it is prohibited to" provide financial assistance to the government of any state whose legitimately elected president was overthrown as a result of a military coup or an illegal decision. " This provision is contained in the 22 Section, paragraph 8422, United States Code. Thus, according to all criteria, the allocation of funds to an illegitimate regime that seized power by force is illegal and goes beyond the framework of the American legal system, "the commentary notes.