As the Defense News reported, referring to an official French official, a couple of weeks ago, four light wheeled armored vehicles made by Renault Trucks French company (part of the Renault Trucks association controlled by Volvo) were delivered to Russia for testing in the interests of the Russian Interior Ministry. Group) - two PVP machines and two VBLs (as can be understood - modifications of the Mk 2). Machines are tested at the site "in the Caucasus at Sochi." It is alleged that the Russian army is also showing interest in the PVP armored vehicle, although Renault Trucks Defense has officially denied that the vehicles were sent for testing by the military.
The aforementioned official reported that it is a question of the possibility of Russia purchasing "several hundred" VBL machines directly in France.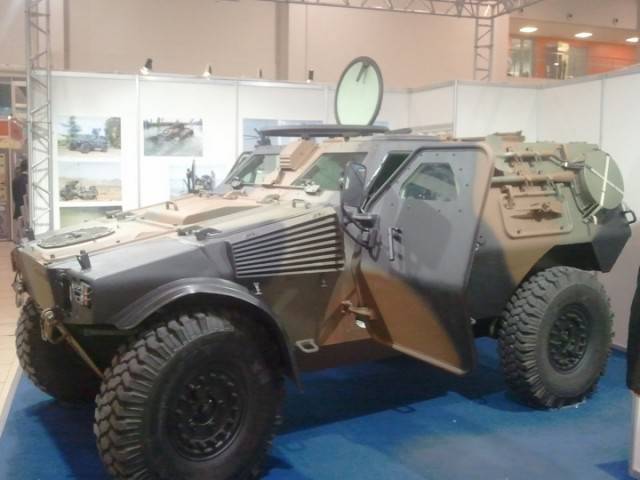 Armored Renault Trucks Defense (Panhard) VBL Mk 2 in the exhibition "Interpolitech-2011" in Moscow (c) bmpd
The newspaper in its publication is on a number of other projects currently being implemented in the field of Russian purchases of military products in Western European countries. Thus, a representative of the French shipbuilding association DCNS said that the construction programs for Russia of two universal landing ships of the Mistral type and the delivery of equipment for them (radar and SENIT ASBU) "are moving ahead, as expected." The representative of the French Ministry of Defense Pierre Beyle said: "There is Ukraine, on the one hand, and there is French-Russian cooperation on the other."
In a statement released by 7 in March, the German concern Rheinmetall declared that it was fulfilling its obligations towards the Russian side under the 2011 agreement of the year worth 100 million euros to build the training center of the Russian Defense Ministry in Mulino. "It is in the delivery stage and is supposed to be commissioned this year. ... We do not want to speculate about the possible consequences of further deterioration of the political climate with Russia," Rheinmetall said. - "In principle, Rheinmetall continues to see good potential in the Russian market. Nevertheless, at present there are no specific tenders in which we participate."
As for the transaction for the purchase by Russia in Italy of 358 light armored vehicles Iveco LMV, it has been stalled for some time, and, according to an Italian source, for Russian domestic political reasons due to pressure from Russian manufacturers. According to this source, only 57 machines were fully equipped in Russia, where they were parked and not used for a year. More 126 machines were delivered, but without part of the nodes that are in Italy ready to be shipped. The rest of the cars are ready for shipment to Russia. According to the source, the pace of Russian acceptance of cars has slowed down - perhaps due to the growing pressure in favor of purchasing Russian-made cars.