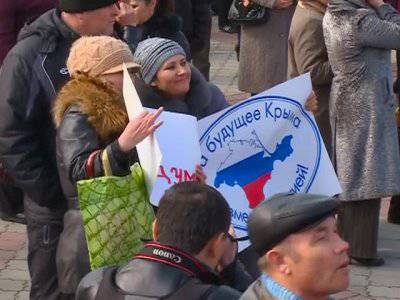 Washington and London remain in their previous positions and call the upcoming referendum in the Crimea inappropriate to international law. And this is despite the fact that, for example, five years ago, the United States recognized the legality of the secession of Kosovo from Serbia - and only on the basis of the decision of the Kosovo parliament. And this is how Western politicians explain this contradiction.
The authorities in Britain, the United States and some other countries continue to insist that the referendum in Crimea is illegal. I wonder how flexible Western politicians interpret this very international law and change their standards on the situation.
Recall the unilateral secession of the Republic of Kosovo in 2008. Then there was no referendum: there was enough of the act adopted by the Kosovo parliament. Serbia initiated international proceedings, it took place in the UN court in The Hague in 2009 year.
At the hearing, the United States stated that the secession of Kosovo complies with international legal norms, and the declaration of independence should be evaluated as an expression of the will of the Kosovo people. But in connection with the Crimea, US President Barack Obama argues that the international community "in 2014, is no longer in a position that the borders between countries change around the democratic leaders."
Finally, in 2009, a British diplomat compared Serbia and Kosovo - no less - with rival spouses. They say that everything is simple: Kosovo does not want to be with Serbia, and Serbia does not want to recognize the independence of a small state. So a "divorce" is required. But now British Prime Minister Cameron agrees with Obama, and
historical
For some reason, both politicians for some reason do not recognize the arguments in favor of a "divorce" with Ukraine. Although the referendum, in contrast to the unilateral Kosovo declaration, is precisely the direct will of the citizens.