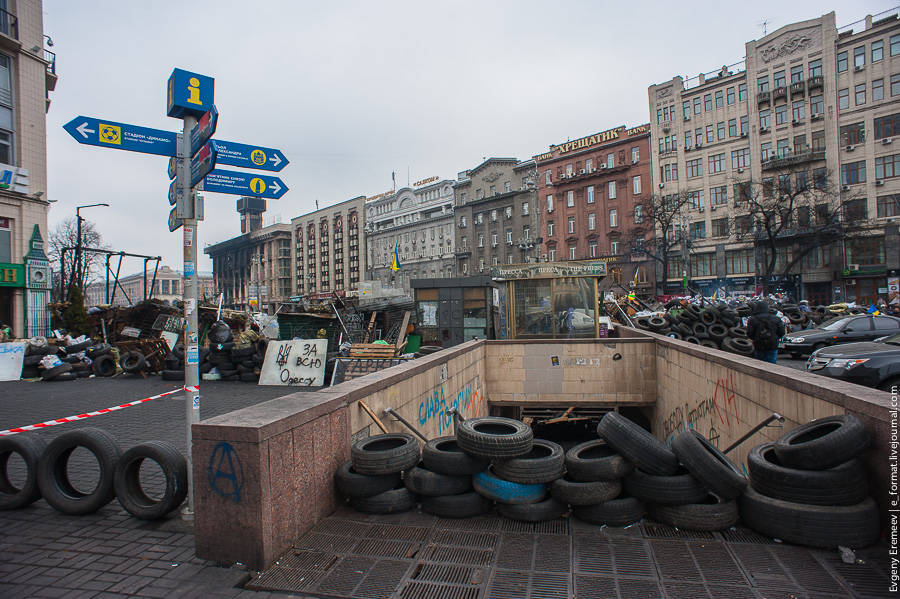 Like a storm the wind, in a spray of rage splashes Maidan
Living people lose their appearance without flour
Brown shower filled the troubles of the ocean
And threw the body into the battle and too weak hands
Our day is not over, the apartment is still empty
Outside the Sabbath - roars and rages Maidan
Do cry to God? Prayers - bloody clots
Will not be heard, all absorbed by the hurricane
(N.A., Kiev, 14 years)
From the author: the notes below are part of my correspondence with one resident of Kiev from December last year to February of this. At the very end I will explain why I decided to publish them. I deliberately removed from the text of the date, so that you can cover the image as a whole. Although, everything is clear.
I am pleased with your concern, but the people are just tired of the gang, sitting in power. People want to live and live well. You know, I am far from politics, in fact, I don't care where we are, in the EU or in the CU, what difference does it make to me? My salary will not allow me to travel around Europe anyway. Although I would like to. I would be glad, if indeed, our life will change so that I can still see a lot in the world.
Maidan-is the mental state of the people. People want a good life. People want to express their will. Yesterday I reached the square, knocking over the edge. They say smart and fair things. They are fighting for a new life. I, frankly, would also like to.
You know, we look at all this differently. You are in the TV screen, I am in the window. Believe me, those who came to the square are not marginal, with nothing to do, on the contrary. People want action, people want work, people want a better life. People finally want their opinions to be heard. There, on the square, gathered those who care about the future of the country. Those who want Ukraine to be strong and rich. We live well, you would not stuffed the trunk with your toys every time you come, right? This already suggests that everything is not bad. We just want it to be even better. Maybe our place in Europe, but simply your authorities do not want this?
Classes are canceled, I sit at home. Canceled for security reasons. I sit. Look maidan. I listen to the Maidan. Do not be offended, after all your know how to make an elephant out of a fly. This is me about your channels. All this has already happened - they will yell and go away.
We still have everything. Classes resumed. The whole city lives, as if nothing had happened. I wrote that your television is too nagging.
Independence roars Maidan boils. I told you that the Maidan is a normal state of mind of the people. This is his voice. And this time they will have to listen again.
I am not a politician, it is not easy for me to judge and answer your questions. The fact that our president is a thief is not discussed. The fact that he sold three times and nine times - yes. I do not think that he will be removed, but all this is already beginning to oppress. I think to go to my sister, it's quieter. Last time it is impossible to sleep from the constant rallies and speeches.
I moved. Terribly uncomfortable and unusual, and go to school for more than two hours. But Lyudmila is quiet and calm in the area. Sometimes I will go to Institutskaya after work, water the flowers, see the mail. Then I will answer.
You know, the simplest thing is to see with your own eyes. Come see. Kiev is the face of Ukraine. It still treats its neighbors well. Everything here is also welcoming and hospitable. Just come, I will be glad to see you, you can at least appreciate what winter Kiev is.
It is a pity that you came only for one day. Hope you really liked it. You have nice guys, you generally made an impression on Lyudmila. She said that if all Russians were such, then we would never have any problems. Neighborhood. I did not disappoint her, I know what is on your mind. No offense, but why do you teach your guys war? Here is all this love for
arms
, constant voltage, the constant search for their own and others, all this is superfluous. After all, they will teach all this in the army, will they not? Why, all this is superfluous, because no one will ever attack you? And your namesake wolf cub. I saw him look at our guys there. You take it too seriously.
He went back to Institutskaya. I'm tired. Here everything is still - noise, din, speech. When will it all end? How tenaciously people hold on to power. Although, probably, your Putin, too, in such a situation would not have made concessions. Power - it is never a lot. I often go to the square after class now. Just watch, listen. I would like to end it all. Let Yanukovych call elections and leave, it would be easier for everyone. Is it not enough that he has?
Moods are changing. People have become unrestrained and aggressive. No longer shy in expressions, there are calls for the violent overthrow of power. There are a lot of young people in the square. Behave aggressively, but keep within the limits of decency and rules.
Quarter cordoned off by the police. They say that on the square and on the Grushevsky street there are constant fights. It all looks silly. From the day after tomorrow the classes are stopped for some time. We are recommended without any particular need not to leave the apartments. Apparently, I will move to Lyudmila again.
I am ashamed. We taught these people. We gave them examples which, in our opinion, should have awakened only good things in their souls. You are right to say that everything "reasonable, good and eternal" sows the Internet. Why then we? We still have to set something apart by our example. Otherwise we are really not needed.
I look at the people who go. They go there, to the square. I don't see her, but I hear her. I hear constantly the roar of the monster that we have created and raised. Strange, my friend, I feel like a character in a terrible tale. Apparently, we sat out the dragon. God forbid that he does not devour us. I am sad to see and hear all this.
February 26 Anton Yakovlevich Goloviy was beaten near his house entrance by unidentified people. 8 March, without actually regaining consciousness, he passed away. I wrote about this one of his students, the author of two quatrains, which I allowed myself to take as an epigraph. Anton Yakovlevich was an ordinary Kiev intellectual, a music teacher in a Kiev school. I met him two years ago, absolutely by chance, in one of the shopping centers in Kiev. And with great pleasure I talked all these two years. Maybe this is somewhat tactless, but I took some of his statements from our correspondence with him. Just to show how it all looked through the eyes of an ordinary peaceful person, absolutely apolitical. There are thousands of such in Ukraine, if not more.

I will miss our correspondence, much more extensive than the passages that I allowed myself to bring here. I am very sorry that, according to the well-known law of meanness, it's just those who would have to live and live leave. And only one thought comforts me a little: he did not see everything that happened afterwards.