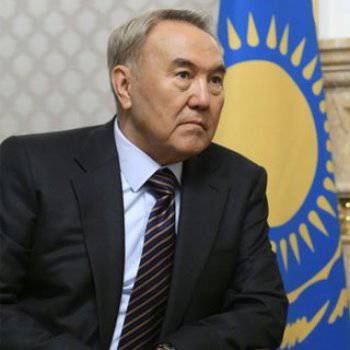 Presidents of Kazakhstan and Russia Nursultan Nazarbayev and Vladimir Putin during a telephone conversation exchanged views on topical issues on the international agenda, including on the development of the socio-political situation in Ukraine, Interfax reports, citing the press service of the President of Kazakhstan.




"Nursultan Nazarbayev noted that Kazakhstan, as a strategic partner, treats with understanding the position of Russia defending the rights of national minorities in Ukraine, as well as the interests of its security," the press service said.

Nazarbayev expressed the hope that all interested participants will show restraint and will take measures for the early normalization of the situation through negotiations.

The President of Kazakhstan expressed his opinion on the need for a peaceful settlement of the crisis in Ukraine based on the preservation of sovereignty and in accordance with the norms of international law.

A spokesman for the Russian president, Dmitry Peskov, confirmed to the agency that there had been a telephone conversation between the leaders of Russia and Kazakhstan. "It was discussed, including problems related to the current situation in Ukraine," he said.
Here's a
news
.
A little sad for the term "strategic partner". These, if I may say so, "strategic partners", for the most part, are not partners. Or partners in a different way. Remember, advertising was so in MMM: "We are not freeloaders, we are partners"? Probably, since then, and not very pleasant implication of the word. For some. Because many of our "strategic partners" mumble indistinctly there, since they have no desire to go into an open quarrel with all of a sudden (in their opinion) Russia, standing in a bear pose. And with the owner, too, swearing is not comme il faut. But - such is the diplomatic protocol.
Once again, the world was divided into "they" and "we." Once again we have one, they have another. This is a war, albeit without fighting on the battlefield, but on a political and diplomatic level. Thank God, or rather Russian politicians and diplomats, for now.
Sometimes diplomatic language needs translation. I personally would like to translate the phrase "Kazakhstan, as a strategic partner, treats the position of Russia with understanding," sounded from the lips of the President of Kazakhstan almost like "Guys, we all understand, we are with you". Simple and tasteful.
Nazarbayev has the right to speak on behalf of the entire Kazakh people. This is not contested. Naturally, in the general mass of the people there are those who support him, and there are also those to whom he is not particularly fond. This is also normal.
But in the current situation, when not everyone openly declares agreement with the policy pursued by the leadership of our country towards Ukraine, without further ado, I just want to say one word to all of Kazakhstan. Thank!