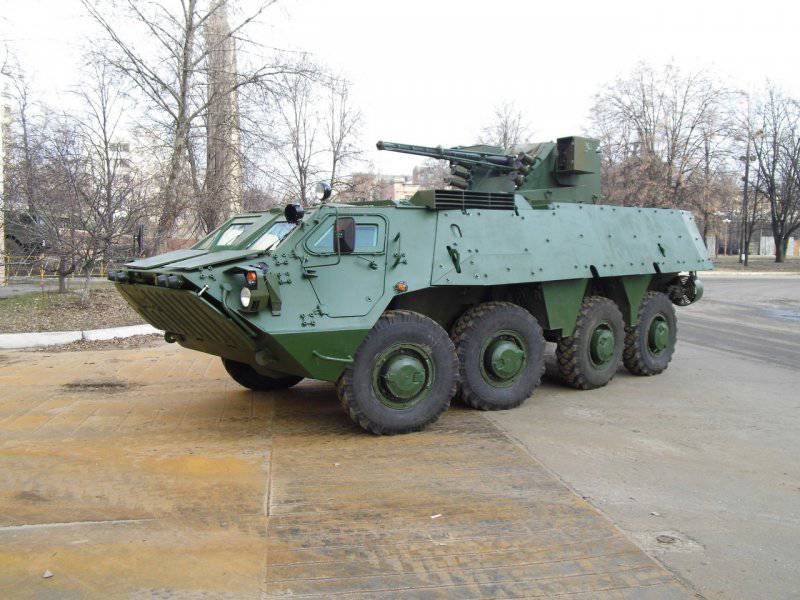 The Ukrainian Kharkiv Morozov Machine Building Design Bureau (KMDK), which is part of the State Concern Ukroboronprom, produced a new version of the armored combat vehicle BTR-4 with additional protection.
"The new version of the armored vehicle BTR-4 is expanding the family of armored vehicles with the wheel formula 8х8, which is already in mass production. KMDB has developed and manufactured a prototype and a set of hinged armor for it, "the report says on the KMDB website.
"The hinged armor can significantly increase the protection of the crew and the assault forces that are inside the BTR-4. At the same time, it can be installed and dismantled by the crew in the field, depending on the planned combat mission and the intended level of threat, "the press release says.
BTR-4 is a floating combat armored vehicle with a wheel formula 4х4. It has a modular design, which allowed to create a family of armored vehicles on the basis of a common chassis. It includes an armored personnel carrier, an infantry fighting vehicle, a command vehicle, a command and control vehicle, a medical vehicle, and an evacuation vehicle. Thanks to the use of various combat modules and special equipment, the vehicle can be adapted to perform various combat and auxiliary tasks, according to the description of the armored vehicle on the company's website.
BTR-4 adopted by the Ukrainian army.
In 2009, Ukraine entered into a contract to supply 420 with such machines to Iraq. However, in August last year, the Iraqi side rejected the 42 armored personnel carrier, which were sent back to Ukraine. The buyer accepted only about 100 machines, further deliveries were threatened.
In September last year, it became known that Iraq decided instead of Ukrainian armored personnel carriers to buy Russian BTR-82, as well as possible options for upgrading the existing fleet of Soviet BTR and BMP, delivered in 1980-s.
In addition to Iraq, Ukraine supplies the BTR-4 to Indonesia (last year a contract was signed for the supply of five cars) and Kazakhstan (the contract for the supply of 2012 BTR-100 was signed in 4 in the year).