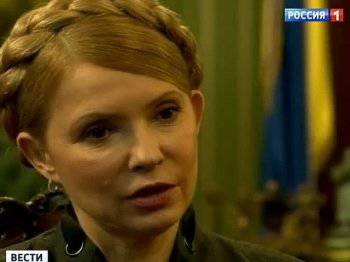 Yulia Tymoshenko, who flew to Germany for treatment, was marked by a new, bright statement. After negotiations with Angela Merkel, she threatened Russia with a partisan war if Ukraine lost the Crimea. Tymoshenko's statements day by day are becoming more and more bloodthirsty.
It is quite possible that the whole point is that, having appeared on the Maidan immediately after her release from prison, Tymoshenko was surprised to find that they were greeting her not so loudly as the leader of the Right Sector Dmitry Yarosh. And, apparently, I understood that Russophobia is now a political trend, and soon the presidential election. The introduction to the new fashion Tymoshenko began with the fact that in an interview with the BBC proposed to rid Ukraine of the Black Sea
fleet
.
"The Black Sea Fleet, especially after all the events that are happening now, should be designated as a hotbed of military instability on the territory of Ukraine, as a source of war," she said. "Therefore, the Black Sea Fleet should be removed from Ukraine as soon as possible. I mean Kharkiv agreements must be denounced. And we must do everything to ensure that this fleet leaves the country as soon as possible, because this is the source of the war that we cannot leave in Ukraine. "
Now Tymoshenko is actively urging the US and Europe to step up pressure on Russia. In Washington and Brussels, Tymoshenko is eyeing. It was not by chance that on the very first day after Tymoshenko was released, she met in Kiev with the US and EU ambassadors. She held telephone talks with Chancellor Merkel, European Commissioner Füle and immediately with three US senators, including McCain, known for his anti-Russian stance.
The statement of Tymoshenko is certainly consonant with the wishes of Washington, where they have already stated earlier that they would like to see Sevastopol without the Russian fleet. Replace it there, obviously, should the American base.
The American military presence in the world is very large. The bases are located in Germany, Portugal, Great Britain and Italy - the countries are completely dotted with American military facilities. The same situation in Iraq and Afghanistan, smaller in Japan. American bases are evenly distributed throughout Turkey. Against this background, the accusations from the United States against Russia in a certain "armed aggression" look very strange.