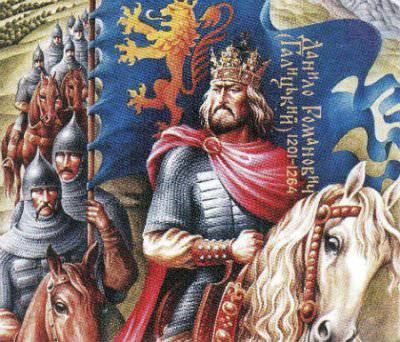 In January, 1254, the year of Daniel Galitsky, the first of the Russian princes, went to rapprochement with the West, taking the royal title from the hands of Pope Innocent IV. This allowed him to solve personal ambitious tasks to create his own pocket state, at the cost of which was a wedge, driven forever between two parts of the Russian people ...
It was not just a political act, because the West did not accept and still does not accept an alien religion and philosophy of life. The price of "West Friendship" is a betrayal of religion,
stories
, roots. The first betrayal of the Russian people as their ruler.
But newly Daniel King - it is only a man, and his life after 10 years ended, and Red Rus Rus ceased to be true, and probably forever ... From about the middle of the century 14 former land of Galicia-Volyn principality virtually lost its statehood. The one for which paid a high price. Until the end of the 30 of the 20 of the century, these territories, under the peoples inhabiting them, came under the jurisdiction of the Poles, the Austro-Hungarians, the Romanians, and the Lithuanians. And each "patron" considered it his duty to assimilate the indigenous population, erase from it the historical memory of Russian roots, mix it with other ethnic groups - and in the end it was possible.
The Russian people in the lands of Galicia have lost their memory, lost their identity, ceased to be a people as such ... These six centuries are a history of violence, humiliation, enslavement. Psychology clearly defines the behavior of a person experiencing a significant part of the life of humiliation and once the rapist found himself outside the sphere of influence: in 70% of cases he himself becomes a rapist if circumstances allow.
The circumstances in this case were the troops of the Wehrmacht. They gave
weapon
and promised (quite in the spirit of European honor) the long-awaited "independent" state. And six centuries later, Holy Chervonnaya Rus became the accursed Bandera Galicia ...