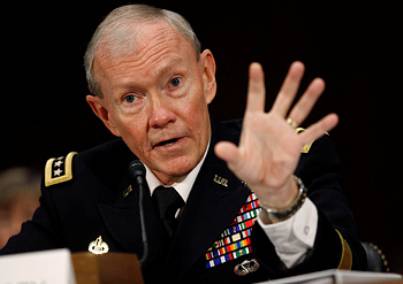 The US military is ready to support its allies in Europe and provide support to Ukraine. The United States sends a clear signal to Russia that they are ready to respond to the threat. This was stated by the head of the Joint Chiefs of Staff of the United States, General Martin Dempsey.
According to Dempsey, he talked "with the military - colleagues from Russia - and sent a clear signal to Ukraine and NATO members: the US is ready" to respond to the military if necessary.
"We are trying to tell Russia not to escalate the situation further in Eastern Ukraine and to allow creating conditions for resolving the situation in Crimea," LigaBusinessInform quoted the general as saying.
"We have contractual obligations with our NATO allies. And I assured them that if this treaty commitment will be activated (in Europe), we will respond," said Dempsey. He warned that the invasion of the Russian military in the Crimea creates risks for all European countries and NATO allies. "If Russia has the right to do this ... To enter a sovereign country under the pretext of protecting ethnic Russians in Ukraine, this creates risks for Europe in places where there are ethnic enclaves," the general added.
Earlier, US Under Secretary of State William Burns said that the White House will restrain Russia's further encroachment on Ukrainian territories.
According to him, President Barack Obama, Secretary of State John Kerry and the entire administration are "working hard" to provide urgent international support for Ukraine. Among the main elements of the country's strategy of support are "restraining further attacks on Ukrainian territories and further pressure to put an end to the occupation of Crimea by Russia," Burns said.