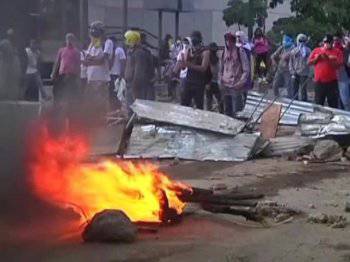 In the capital of Venezuela, Caracas, the wave of violence does not abate, which rose last month. Twenty people have already become victims of mass riots on the streets of the city, the number of injured goes to hundreds. At the same time, many experts are sure: the Venezuelan opposition is so vehemently opposing the current authorities not only on their own initiative. Washington is already openly discussing scenarios for supporting opponents of Nicolas Maduro.
Protests in Caracas, experts say, are using certain circles to their advantage. In the case of Venezuela, this is interest from the United States. First of all, it is an interest in the main export product of its Latin American neighbor - oil. In the "pre-curtain" era, it was sold at prices imposed on Venezuela.
And now, when anti-government protests have not subsided in the country for more than a month, the United States has decided to give a helping hand to the oppositionists. "Under autocracy, when authorities ignore standards of conduct and are ready to use force to impose their will on free citizens, words are not enough," says Ileana Ros-Lentien, Republican member of the Republicans. "We must act immediately to support respect for rights man in Venezuela. "
To support the protesters, it is proposed to introduce sanctions against President Maduro and a number of officials. At the same time, just four months ago, Washington declared that it had abandoned the Monroe Doctrine, which declared the whole of America to be the zone of US influence.
This week, the anniversary of the death of Hugo Chávez, Venezuela, marked the rupture of diplomatic relations with Panama. After the mourning events involving the leaders of Cuba, Nicaragua and Bolivia, Nicholas Maduro said that he was sending the Panamanian ambassador to 48 hours. The reason was the offer of Panama to hold an emergency meeting of the Organization of American States for the protests in Venezuela. The President of the Bolivarian Republic declared that interference in the internal affairs of his country, and the idea to the Panamanian President was submitted from the north.
"Given that the plot was revealed, I decided to break political and diplomatic relations with the government of Panama and freeze all trade and economic relations in order to protect the peace and sovereignty of our country," Maduro said. "No one can call on our homeland with impunity. you, President of Panama, are a despicable footman! "
Protests in Venezuela began on February 4. Dissatisfied students took to the streets. The police broke up the protesters, but the shares broke out with a new force. Their participants are unhappy with rising prices and a shortage of essential goods. The number of victims of unrest has reached 20, there are already hundreds wounded.