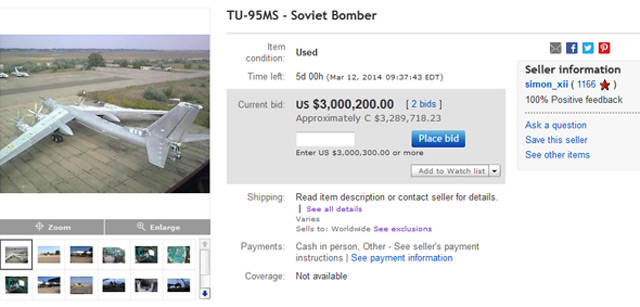 On the Internet auction site eBay sell Ukrainian strategic bomber Tu-95MS. Sellers indicate that the lot is not ready to fly. Whether it is subject to repair is not indicated, but judging by the cost, this is unlikely. The initial cost of the aircraft is 3 million dollars. What is needed to raise it to the sky is also not reported.
So far, only one bet has been placed on the bomber. The seller claims that the aircraft is "demilitarized, all the documents on it are in order, it is fully ready to be sent to the buyer." Lot put up for sale by the user under the nickname simon_xii. The information about the seller indicates that this is a company with offices in Ukraine, Switzerland and Germany. It is indicated that the aircraft is sold by the partner of this company.
It is also reported that the aircraft was released in the 1987 year, he flew 454 hours with a little, while his flying resource is five thousand hours. The seller indicates that he is ready to pay for his delivery to the port of Nikolaev or Odessa. From there, the plane can go anywhere in the world with the exception of 47 countries. This list includes the states of Africa and Central America, Armenia, Azerbaijan, Cyprus, Belarus, Bosnia-Herzegovina and a number of other countries. The lot will be posted on eBay before 15 March.
According to Russian media, Tu-95MS aircraft are not currently in service in Ukraine. 23 such machines were in service with the Ukrainian armed forces until 1993 year.