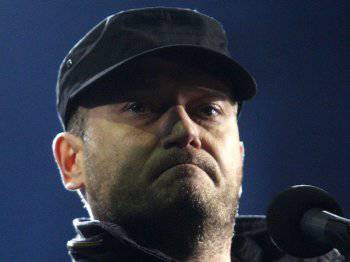 The leader of the Ukrainian nationalist movement "Right Sector" Dmitry Yarosh, announced by the RF IC on the international wanted list, will run for the presidency of Ukraine. This was announced at a press conference by the chairman of the Kiev headquarters of the Right Sector, Andrei Tarasenko.
"We are preparing a congress at which the party will be renamed. We are going to elections in Kiev, to elections in all local councils, cities and villages. This means that Dmitry Yarosh will run for president of Ukraine," ITAR-TASS quoted Tarasenko as saying.
Earlier, the Main Investigation Department of the RF IC issued a ruling on bringing the leader of the Right Sector, Dmitry Yarosh, as an accused of committing crimes under the Criminal Code of the Russian Federation "Public calls for terrorist and extremist activities committed using the media."
Earlier it was reported that the question of the correspondence arrest of the leader of the Ukrainian "Right Sector" Dmitry Yarosh Basmanny Court of Moscow will consider March 12. Due to the fact that he is outside of the Russian Federation, the trial will be held in absentia. However, the Prosecutor General's Office of Ukraine has already stated that there are no grounds for the detention and extradition of the Right Sector leader, Dmitry Yarosh, to a foreign state.