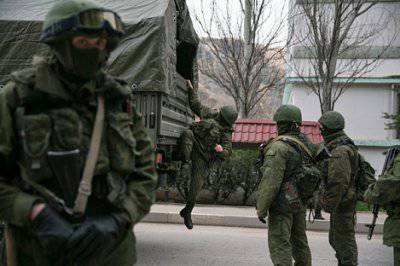 What prompted me to write this text:
A letter to the Russian president was written on the Internet by the citizens of Perm, learning about the upcoming troop introduction to the Crimea, the Total.kz correspondent reports referring to the local Internet edition 59.ru.

"We have learned that you, Vladimir Putin, want to send troops to the Crimea in order to protect the rights of the Russian-speaking population. In this regard, we have a big request - to send troops to the Perm region. We are all Russian-speaking here, and our rights are greatly affected. Our patients cannot get the medicines and treatment they need, the level of our education falls every year, children's sections and clubs are closed, agriculture has been almost completely destroyed. We all suffer a lot. We learned that you are going to spend a lot of money to normalize life in the Crimea. Is it possible to spend this money on the normalization of life in the Perm region? And then our region is in such a debt pit that there is not enough money for anything. And we really need bridges, roads, sports facilities, industrial facilities, new jobs, "local online edition 59.ru quotes the message from the residents of Perm region.

The authors of the letter even promised not to start any partisan actions against the army of liberators. The text of the message is borrowed from a similar appeal to the Russian president from residents of Vologda.
I, as a citizen of the Russian Federation, knowing, so to speak, the problem from the inside, in many respects agree with the inhabitants of the Perm Territory. There are many problems, stalemate problems, which are almost impossible to solve under the current government. This is the removal of the state from solving social problems, problems of medical care, problems of high-quality education for our children. What can I say, I myself now face a dilemma to try on the yoke of mortgage lending. With a one-room apartment cost of almost two and a half million Russian rubles for 20 years, I will pay out twice as much as I borrow. And such problems are myriad.
But I understand that Russia will never be left alone by our Western partners and "letting through" a blow in Ukraine, we are putting our Motherland in great danger, the danger that tomorrow they will knock at our door ... They knock, no matter who: Nazis, democrats , militant LGBT representatives, Greenpeace, radical Islamists, Mars envoys ... They will not knock on abstract Uncle Petya, but on you, dear reader, on Perm citizens ... on me. They will knock, because they will begin to "jerk" ours with you, reader, Motherland. Because we are Russians, we are uncomfortable, we had the audacity to occupy one-sixth of the land, we must, in the opinion of the enlightened West, be destroyed. Ukraine is a rehearsal of our execution. Do not defend - penny us the price.
So when I read that the residents of the Perm region are asking for troops, I understand that this is the work of our "fifth column". Their task is to form an opinion that we don't need Crimea, we have enough of our problems. We, in the opinion of these "patriots", do not need the Caucasus. These eaters are well aware that we will let the Caucasus go and tomorrow it will be radicalized and will come to us, to Ekaterinburg, to Perm, we will let go of Ukraine and tomorrow Bandera will come to us, to Voronezh, to Rostov. And, as practice shows, this does not need Army Groups Center, North and South. Only traitors, the "fifth column" and weak power are needed. These corrupt creatures continue to push the common man on a sore spot. "Down with the ballast, there is nothing to eat by yourself !!!" - they say. And the rabble from this fifth column is educated, their lies go into a thin banter - ten lines that the author is a patriot and, like, says everything correctly, but a couple of lines in these ten winds up a snake informational "release". And this "blowout" works, people believe it. It's so funny when the troops (ha-ha), when in the Perm region (just scream). But I hope that the Russian people will be able to separate the wheat from the chaff.
My opinion, this opinion is not biased patriot and not "paid Putin's troll," but a person who wants to think for themselves, without "stamps." For example, I don't like the fact that the "go-ahead" was given to support only the Crimea, and the East has been completely forgotten ... One gets the feeling that we have "merged" the East. I hope that is not right ...
I myself am a builder, I chose my profession in a conscious age, I really love my job. I did not, forgive me for the workers of respectable branches of non-industry, trader, manager, realtor, broker, dealer, etc., etc., etc. ... But I am proud of my choice !!! I am a creator, I am Russian!