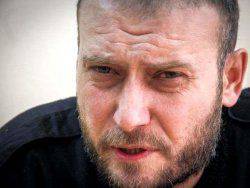 The head of the Ukrainian radical nationalist group "Right Sector" Dmitry Yarosh demanded that the Kiev authorities open military arsenals for his troops.
"Such a requirement for the Ukrainian government and the Ministry of Defense put forward the leader of the" Right Sector "Dmitry Yarosh. He said that "conservative approaches" of the leadership of the security forces do not allow to bring order to the country and exclude anti-Maidan protests in the eastern and southern regions of Ukraine, "a source in the military department of Ukraine told ITAR-TASS.
At the same time, according to the source, Yarosh "in the ultimatum form proposes to hand over to the" Right Sector "
weapons
and military equipment, as well as several military training centers. " The centers, Yarosh explained, are necessary "for the qualitative preparation" of the fighters of the Right Sector, since they will have to participate in "ensuring the territorial integrity of Ukraine."
According to the source, Yarosh did not rule out that if he was not listened to, he would participate in the fate of Ukraine in "more decisive ways."
We add that, according to Ukrainian media, on March 5, a proposal was made to the Verkhovna Rada of the country to give the Right Sector the status of a regular militarized unit. And for refusing to support this initiative, approved by the Prime Minister Rada, Arseniy Yatsenyuk dismissed three deputies of the Minister of Defense.
In Russia, 7 in March, the RF IC asked the Basmanny Court of Moscow to arrest the leader of the Right Sector in absentia.
Yarosh has already been put on the international wanted list by Russian law enforcement agencies. The Investigative Committee opened a criminal case against him on articles for appeals to terrorism and extremism after Yarosh appealed for support to the militants of the terrorist Doku Umarov, urging them to step up actions against Russia.