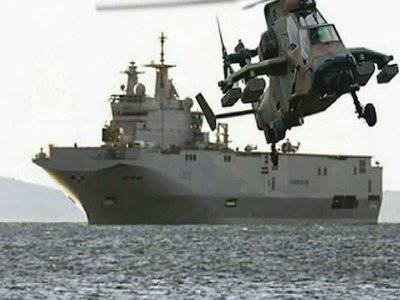 French President Francois Hollande, answering journalists' questions following the EU summit on the situation in Ukraine, said that the agreement to sell two Mistral-type ships to the Russian Federation was not suspended.
"France is in compliance with the provisions of the signed contracts. We are not yet at the stage when we need to cancel them, and we would like to avoid it," said ITAR-TASS, quoting Francois Hollande.
The French president also said that the European Union is not currently considering the issue of imposing an arms embargo on Russia. "The measures [of a sanction nature] are of a phased nature. There are those that are taken immediately, and this was done by the EU Foreign Affairs Council, and those that the European Council approved for implementation. These measures can be terminated if the path of dialogue is resumed", - he said, answering the question about the prospects of the EU arms embargo against Russia.
As it was reported, on Thursday, March 6, in Brussels, they were arguing all day about what sanctions to hit Russia, but didn't really think of anything, except, perhaps, that the negotiations on visas and the new partnership agreement were suspended, the Russia 24 TV channel reminds ". So the threat to introduce some sanctions remained threats.
In principle, they could introduce sanctions, but only theoretically. Practically for this, it was necessary to secure unanimity on this issue of all EU countries, but two problems arose. Firstly, as it turned out, not all in the EU share the accusations against Russia, and not everyone believes that it is necessary to support the Kiev self-proclaimed authorities.
Mistral class ships are universal amphibious assault carriers. In service with the French Navy are three such ships. "Mistral" can perform the tasks of landing troops on land, take helicopters. It can be a command center and a floating hospital. The ship can accommodate troops numbering 450 people and 16 heavy helicopters, which are provided for the hangar.
The length of the ship's hull is 199 meters, its full displacement exceeds 21 thousand tons. "Mistral" is equipped with diesel engines with a capacity of more than 20 thousands of horsepower, which allow it to reach speeds up to 19 units. Ships of this class have anti-aircraft and rocket weapons.
In December 2010, Russia and France signed a contract, according to which our country buys two such ships. The deal amounted to 1 billion 100 million euros. Two more Mistral are to be built at the Baltic Shipyard under license. The first ship may become part of the Russian Pacific
fleet
already this year, it is called "Vladivostok".