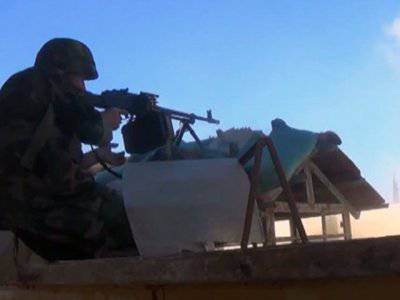 Syrian troops broke through the defenses of the militants of the armed opposition in the city of Zara in western Syria. Army units, in conjunction with the national defense forces of March 6, destroyed firing positions at the height of Tell-Dzhalal and nearby Hattat farms. Discovered and blown underground tunnels, which moved the militants. One such tunnel reached a kilometer in length.
The city of Zara, located near the Homs - Tartus highway, is of great strategic importance. Oil and gas pipelines running to the Syrian coast run through it. Having broken through the defenses, the servicemen proceeded to sweep the southern suburbs of the city.
The operation continues successfully in the city of Yabrud (57 kilometers north of Damascus), where troops advance to Fleet, the last stronghold of militants in its vicinity. A road linking Yabrud with a rear base of armed opposition in the mountain region of Ersal on the territory of neighboring Lebanon passes through this settlement.
The Syrian command expects to block the supply lines of militants "Dzhebhat al-Nusra" and "Islamic Front", which captured Yabrud. Helicopters of the Syrian Air Force work in the mountain gorges, ITAR-TASS reports with reference to the SANA agency.
In one of the quarters of Homs, a terrorist act was committed, 13 people died, more than 30 were injured. Two mortar shells exploded in Damascus - five people were injured, no dead.