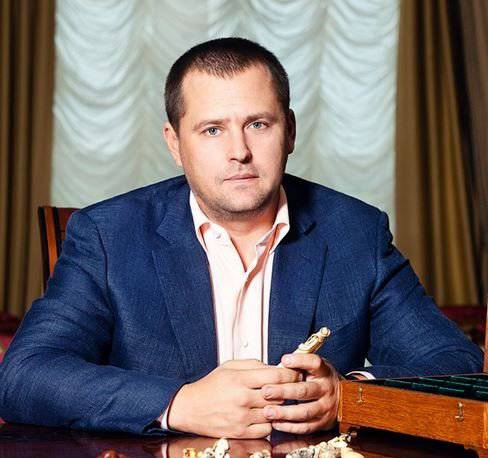 Borys Filatov (Hanger) Odessa National Academy of Law
In this statement, the whole essence of the current policy of the Bandera regime that seized Kiev: Unexpectedly, faced with the awakening south and east of Ukraine and realizing that they could not realize their age-old dream - to drown in blood, as they say, Ukraine's disgraced Ukraine, the Bandera changed tactics:

1) They need to put down the Ukraine they hate at any price, for this they do exactly what Filatov writes about: "We must give the scum any promises, guarantees and make any concessions". Hence, all this is a vulgar lie about the protection of the Russian language, the absence of the terror of the Nebander Ukrainians and everything else. In addition, the illegitimate regime openly relied on the oligarchs of the east and south, hoping that it would be able to deal with its population.

2) If Bandera will be able to demobilize and disorganize the citizens of Ukraine and, with the help of the West, take Russia out of the game, then they will immediately go to the next part of their plan: "... And hang ... You need to hang them later."

Exactly the same scenario, with the face of Vlasov, is being prepared for Russia. All citizens of Ukraine and Russia, who are ready to fight the fascist scum, must unite.
I especially ask you to note: it's not just some non-official who voices his point of view, but a high-ranking official with a considerable career prospect, when the current Gauleiter of Dnipropetrovsk, Mr. Kolomoisky, having rescued the crumbling business at his own expense, hasn't back off into the shadow where and more familiar and more convenient.
In other words, this is the position of the current authorities, who are considered (against the background of potential successors) to be relatively moderate, and this is the essence of their future program, fully (otherwise, Filatov would not be so frank) supported by Ukrainian oligarchs and (neatly, to Sat) Western sponsors.
Therefore.
Please read this material very carefully.
It is highly desirable to copy.
And be sure to distribute as widely as possible, better not in words, but in the form of leaflets.
Because for the present, - in euphoria, without messing up, - the Nazis allow themselves to speak, but very soon they will learn to pretend, and then, if the junta holds out, until May 25 the stream of sweet Russian-speaking nonsense pouring from everybody knows who owns Ukrainian channels will become thick, without a taste of truth.
And they will hang then ...