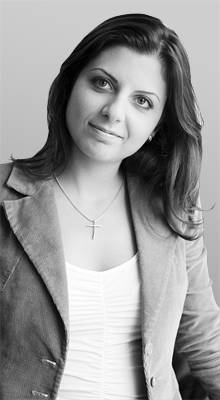 These days, to work on RT, you need to be a very courageous person. Such harassment of our journalists and the entire channel, as now, never happened before and it was difficult to imagine.
Today, another leading our American bureau, Liz Wal, live announced that she was leaving because she did not agree with the position of the channel. That's what I have to say about this.
"Being a black sheep is very difficult. Sometimes - unbearable. Anyone who can not bear this, I wish good luck "
These days, to work on RT, you need to be a very courageous person. Such harassment of our journalists and the entire channel, as now, never happened before and it was difficult to imagine. Look at what you did to poor Abby. At first, she said on the air that she did not agree with the position of Russia, and in a few hours she was literally made a hero of America. In response, Abby recalled to what extent she disagreed with America's position, adding that she is proud to work on RT, where she can freely express these views. Less than an hour after these clarifications, Abby was mixed up with - well, I don't know what, it's difficult to find the right censor word in the night. It got to the point that the mainstream media in America announced that we had turned this whole action with Abby on purpose specifically for PR. Abby herself was labeled a conspiracy theory champion, recalling her activist past. For one day they lifted it up to heaven - and immediately trampled on it. And all this is in front of her colleagues, the same Liz Wal. What is it like watching colleagues?
Yesterday I explained to the New York Times correspondent for a long time why I think that the position of Russia is correct. Because I am Russian. I support my country and will fight for our truth as much as necessary. Abby, Liz, the other guys are not Russians. They are citizens of another country. Their homeland is now comparing my homeland with Nazi Germany. More than one year, they faithfully worked on RT, proving every day that another voice, not singing in the harmonious choir of the mainstream media, can be beautiful, strong, and more and more people listen to it every day. They were the first to tell their country about the Occupy campaign, they were detained at rallies and held in handcuffs for many hours, and then they were tried for simply doing their job. It was they who resented the US hypocrisy in Syria, Libya - continue the list yourself - they reminded who in this world used the chemical
weapon
and did not disdain nuclear, did everything that the mainstream Western media would never have done. But it was a peaceful time. And now - a real war. Not in the Crimea, thank God, but in the media. Every day, every hour, the guys working for us say: "You are liars, you are not journalists, you are Kremlin propaganda, you sold yourself to Russians, you leave the profession, they laugh at you, think again, it's not too late". Here are links only to what has been going on for the last couple of days - tons of disgusting waste paper about our channel, written as dictation. There is probably not a single serious media that has not considered it their duty to devote an article or story to the lynching of RT journalists. All this is told to our children by their colleagues, their fellow citizens, their potential future employers - after all, every journalist thinks about how his career will develop. Many will withstand this pressure? Well, someone can take it. And someone - no. Someone sincerely disagrees, he believes his country more than mine. Someone just thinks about their future. And it's hard for me to judge strictly here.
It is always like this during a media war. We are not the first, we are not the last. During the "Arab Spring" from "Al-Jazeera", loudly slamming the door, journalists left the Lebanese bureau, and behind them - from the Egyptian bureau. More than twenty people explained their dismissal disagreement with the position of the channel. And this is without any pressure on their journalists by the world media - after all, Al-Jazeera played a dude during the Arab Spring in the same tune that the entire world mainstream, and no one wrote anything painful about it, but, on the contrary, wrote what a fine fellow she is.
In the very first minutes after Liz's statement to us, the gloating line of the world's main media lined up for comments, which our exhausted press secretary described to me like this: "CNN, NYT is, in general, everything." In particular, all those who on the same day completely ignored the negotiations between Ashton and Paet, pretending that this was not the case. After all, the dismissal of the leader from the competing media is much more important, where the "news" and much more has to do with the crisis in Ukraine than the recognition of two European leaders that someone from their henchmen, apparently, killed people.
Why do I continue to work on the channel, which alone (!) Confronts thousands, tens of thousands of Western media, telling the other side
stories
being under the every minute sight of these media and not having time to repel attacks, I understand. Because it is my homeland. I have no other way. The guys working on RT in different countries, citizens of other states who are now on the verge of the Cold War with Russia, have a different path. "Why should I report information that is different from what my colleagues in other media give?" Some of them probably ask themselves. And not everyone can answer this: "Because I am telling the truth, and no one will tell her except me." Some do not find the answer and quietly go. Some are loudly dismissed on the air, having secured a fantastic PR that they would have never dreamed of, and tempting offers that they never dreamed of.
Being a black sheep is very difficult. Sometimes - unbearable. Anyone who can not bear this, I wish good luck. To those who continue to work conscientiously, who knows that he is right, even if the whole world keeps saying differently - I'm just proud. Proud.