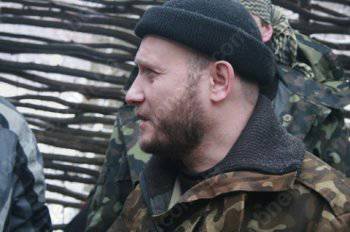 The situation in Ukraine does not go in the front pages of world publications. Both the political and the economic situation on Ukrainian territory are vigorously debated. As reported by "PressOrg" in the section
Ukraine News
, in the "Right Sector" today there is an active discussion of the information that the Russian Federation declared the head of "PS" Dmitry Yarosh internationally wanted after the establishment of a criminal case.
Russia declared Yarosh in the international search and opened a criminal case against him after an appeal appeared on an official PS page on one of the social networks, in which Yarosh appeals to Doku Umarov to start a new wave of terrorist war against Russia. After some time, representatives of the "Right Sector" of Ukraine stated that the appeal was not posted by them, but by some provocateurs who hacked the organization's page. Whatever it was, but immediately after the news of the appeal of Ukrainian radical nationalists to the militant Umarov, Ramzan Kadyrov intervened. He posted his comment on the social network. The head of Chechnya noted that if Yarosh so wants, then he can himself go after Umarov. Kadyrov has once again declared that Umarov is no longer alive.
Information that Umarov is dead is not confirmed by the Russian special services, but there is at least one fact that emphasizes the truthfulness of Kadyrov's words. This fact is related to the fact that for several months already, Doku Umarov has not appeared on any of the videos, although as early as 2012-2013, this was his favorite method of making statements about himself and his actions. If Umarov is not on the "tape", then it is likely that he is not alive.
The Right Sector responded to reports that Yarosh Russia was wanted. The representative of the "PS" Andrei Tarasenko made a statement in which he noted that the criminal case initiated against Yarosh would not affect the "fight". According to Tarasenko, the "Right Sector" will not wind up due to the criminal case against Yarosh. At the same time, PS announced that there is an information war against it, and that the organization is not at all radical, as they try to present it. If someone believed such tales of "sektoravtsev", then the naivety of these people has no limits. The "non-radical" organization with Molotov cocktails, special training bases, having in its leadership people with a terrorist past is an interesting excuse.