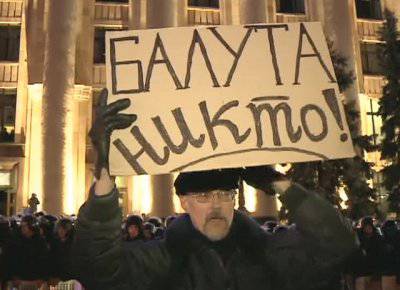 In Kharkov, dissatisfied with the leadership appointed from Kiev. About five thousand people gathered at the regional administration, demanding the resignation of the new governor Igor Balut. Cords of law enforcement officers came forward to meet them. However, the clashes did not come up - activists only reminded the police about the fate of the "Berkut" and called for a side with the people.
Police cordons in several rows around the perimeter of the regional administration, hundreds of outfits patrol the center - there are simply no such number of law enforcement officers in Kharkov itself. Citizens assure that several buses with policemen arrived here from other areas.
The new power, unlike the old one, is not afraid to use force. Against several hundred citizens, who do not agree with the policy of the self-styled government, put up as many police officers. In principle, the thesis of the new governor Baluta is clear, who declared that he would suppress political activity in Kharkov.
And Igor Baluta said that he would not allow separatist sentiments and would start fighting corruption. Residents of the city do not believe the henchman from Kiev.
- This man promised that he would defend the interests of the Maidan, and the interests of the Maidan do not correspond to the interests of the Kharkiv region!
On the square again Russian flags. People ask: "Russia help! We are one people!"
From the House of Soviets, a crowd of protesters moved to the building of the Russian Consulate General. Several thousand citizens are already marching along the quiet alleys of Kharkov. The column stretched for about a kilometer. The main purpose of this procession is to gather as many people as possible to the rally on Saturday.
In the Freedom Square they plan to gather at least one hundred thousand people. The main requirements are the holding of a referendum and the creation of a federal district of the eastern regions.
Citizens complain about local TV channels. IN
the news
one can hear that the rallies and processions are organized by the Russians, they are allegedly brought by buses from Belgorod.
- I met all guys from Kharkiv, from Russia there is no ...
- We are residents of this city, we are not visitors, we are not Russians, and we stand for ourselves and for our city!
The demonstration ended peacefully. A delegation of several activists held a meeting with the new governor. Kharkiv presented him with a list of their demands, the first of which was about his resignation.