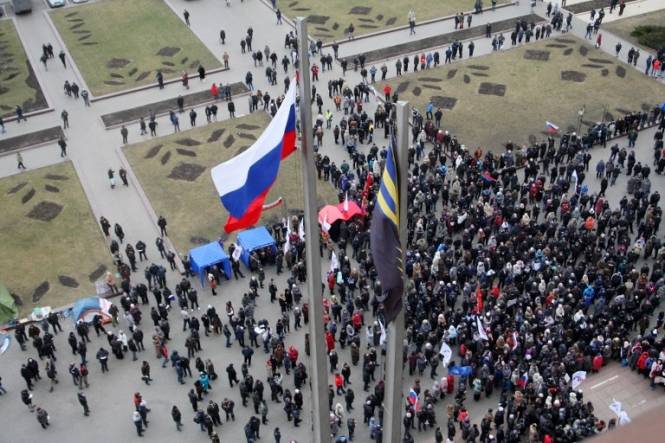 Residents of Donetsk, led by the people's governor Pavel Gubarev, broke through into the regional state administration building. This is reported on the page Gubareva Facebook.
"Friends and Companions! We again returned the Donetsk regional administration to the people of Donbass! Right now, the people occupy the building of the Donetsk Regional State Administration, tearing down the grids with which the illegitimate authorities tried to shut themselves off from the people of Donbass! Russian banners flew up at the entrance to the Donetsk Region State Administration. Donbass! Russia!"
Police did not interfere with our peaceful protest. People chant "Berkut, glory!" Currently opposite and around the Donetsk Regional State Administration is completely filled with people. According to preliminary estimates, the number of protesters is approaching a 10 000 man, "wrote Gubarev.
Earlier, the activist and people's governor of the Donetsk region, Pavel Gubarev, said that the police forcefully ousted the protesters against the new government, who had already occupied the RSA building on 3 in March. He urged people to 16.00 come to the building of the RSA, "to protect the interests of the people of Donbass and prevent another Bandera illegal change of power in the region." Recall, March 3 pro-Russian rally participants seized the building of the Donetsk Regional Council. They demand to recognize the governor of the region Pavel Gubarev, who was elected at a rally on Lenin Square in the center of Donetsk on March 1.