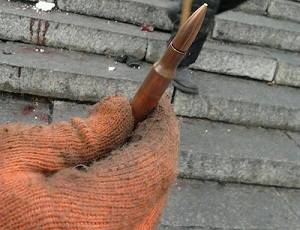 "... We have had a very rotten movement. Yesterday and today I spent time re-checking some information. It seems that everything is going to a very big provocation. That's what happens.
The right sector is completely controlled by the US embassy. Yarosh and Payette are in very close constant contact, with Yarosh the liaison officer with the embassy.
PS, the Security Service of Ukraine and the National Security and Defense Council coordinated actions, and it is unclear who gives the orders - Yarosh Nalyvaychenko or Nalyvaychenko Yarosh. Now PS and SBU - one office.
It is confirmed that three snipers worked on the Maidan. They came to the "job" from the US Embassy. (!)
As a matter of urgency, PS headquarters and bases are deployed in all areas bordering Russia. SBU and police instructed to maximize the assistance of the PS. Taking into account the training of PS fighters in reliance on reconnaissance and sabotage activities, I think we are talking about the organization of terrorist acts in the adjacent regions of Russia. The PS units from Kiev are sent to the eastern regions, but there is a constant influx of new militants to the PS, so that their number in Kiev does not decrease.
All new governors appointed to the South-East, accompanied by fighters of the PS armed with automatic
weapons
. Bases are already ready for them in all the eastern regions. In Donetsk, such bases provided Akhmetov.
According to unverified data, a plane full of US intelligence equipment landed in Gostomel. There is information that among other things, there is equipment for monitoring information in the internet and social networks.
Nalyvaichenko spoke yesterday and said that a foreign intelligence network was operating in the country and that they would soon provide the captured spies. Today Paruby repeated the same. Whose spies it will be, you understand.
Confirmed arrival from Europe through Boryspil strong guys with bags "dream invader". The process does not stop.
It confirms the presence in Kiev of foreigners with experience of "work" in Iraq, divided into groups. Some of them managed to shine in the media. There are Israeli, French, German troops "polite people." A lot of guys from Eastern Europe, a lot of Serbs. Now they are spread around Kiev with the order not to leave the premises.
After 23, February, 25 arrived urgently, sat on Vladimirskaya, and the bus was directly controlled by them.
I saw Julia - again he was flooded with coke on the very scythe, but he was vigorous and confident - he received guarantees from amers. What - no one knows, her "Babskii battalion" is not pricked, but also all of them are bursting with happiness. The real leader of Ukraine, Payette, is tough on confrontation with Russia.
Amer and the German embassy are working in close contact. This is for information for those who believe in some kind of "allied" relations between Russia and Germany.
The purpose of amers is the entire power industry of Ukraine, including the CTA. The Germans are planning to bite a bit too. Yatsenyuk tasked to privatize ALL nuclear power plants. The "buyer" will be Westinghouse Electric.
Acne Klitschko (we call him Pedalik) in a cruel binge, has long wanted to blame, but the Germans do not give.
I already wrote this, but, believe me, Anatoly, absolutely ALL deputies, regardless of their factional affiliation, are in touch with the US Embassy to one degree or another. Everyone has their own daddy ... "