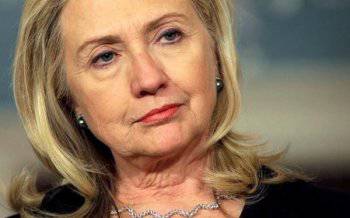 Former US Secretary of State Hillary Clinton drew a parallel with Russia's behavior in Ukraine with the pre-war actions of Nazi Germany.
According to the RosBusinessConsulting news agency, the American Buzzfeed portal and the Long Beach Press Telegram newspaper write about this, whose correspondent was present at a closed charity event to raise funds for the youth organization Boys and Girls Club.
According to Clinton, the goal of Russian President Vladimir Putin is to issue Russian passports to anyone who has any ties with Russia, and this, she believes, is very similar to the policy of Adolf Hitler at the end of 1930 for ethnic Germans living outside the German borders . At the end of 1930, Hitler relocated tens of thousands of Volksdeutsche - ethnic Germans living in various European countries, such as Czechoslovakia and Romania - to Nazi Germany.
"Hitler never ceased to say that they (ethnic Germans living in other countries) were not properly treated. "I have to go and protect my people," this position makes everyone so nervous now, "Clinton said.
The former head of the US foreign affairs agency also expressed the opinion that Putin is a man who "believes that his mission is to restore the greatness of Russia." And this, in her opinion, implies the restoration of control over those countries that were part of the Soviet Union and the countries of the Warsaw Pact.
"When he (Putin) looks at Ukraine, he sees the territory, which he believes is by its nature part of Mother Russia," added Clinton.
The former secretary of state also noted that attempts to resolve the crisis had made some progress: now her successor as head of US diplomacy, John Kerry is in Kiev, and Russia agreed to hold talks with NATO in Brussels.
According to Clinton, if Russia and Ukraine manage to reach at least some kind of compromise, the negotiations should begin in the Crimea. "Now everyone hopes that these negotiations will be negotiations where respect for Ukraine will be shown, and which will not endorse the Russian occupation of the Crimea," Clinton said.
In her opinion, "this is indeed a difficult task, but no one wants to heat up the rhetoric. Everyone wants to cool the situation in order to find a diplomatic solution for the situation, and this is exactly what everyone should strive for. "