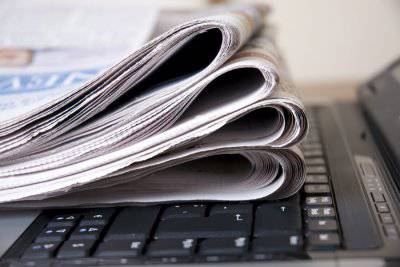 I apologize in advance to the readers for the "clumsiness", since this is my first article and I am not a writer ...
I constantly see in the comments that the mass media of the Russian Federation incorrectly cover the state of affairs in the world and specifically in Ukraine, they say, they are a means of propaganda for Imperialist Moscow, a means for enslaving free peoples by the hated Putin, and the like. Let's look at this issue together.
First of all: man is a social being. He needs to communicate. To communicate you need to have any information (well, just to keep the conversation going). Where to get it? And here the media come on the scene - an inexhaustible source of any information: from quarrels between neighbors to world wars, from bread prices to foreign economic activity of states - any. There is no person who does not read a newspaper or does not watch TV, who does not have a radio in a car, or who is not looking for any interesting articles in the global network ... We all absorb information constantly. And so we are arranged that we unconsciously try to repeat everything, like parrots. If the announcer on the radio after each word will say: "A", then after a while all of his listeners will also speak. This is neither bad nor good. Simply, we are all so arranged.
Now about the media: their impact on the population is tremendous! In the well-known program they will say that "this car is better" and the sales of this car increase, they will say that you need to go on heels - you look half the city on heels, chicken is more useful than beef, and the bird producer is in a bonus ... Everyone knows that , so why is the media considered just an information provider? Although the main task of the media is not to provide information, but to form a certain public opinion.
If media exposure works to promote goods and services, so why should it not work to promote any other ideas? And here it works and is very successful. The thoughts and desires of the media owner are firmly driven into the heads of the people. Someone will say: there is the same "independent"! I will answer: no! Every media has a host! The so-called "independent" - too! And even if a separate journalist, who does not live on the territory of any state, who does not have any obligations, created television with his own money and also launched a satellite to broadcast it, and more ..., and more ..., and yet, it will still provide information as he sees it, that is, subjectively.
So: the Russian media are a means of propaganda? Yes. Cover events unilaterally? Yes. But all this is done in exactly the same amount as the media of other states. CNN, ABC, TVP, BBC ... tell the truth? Naturally not !!! They also form public opinion, beneficial to their owners.
And where to get reliable, complete, current, objective and unambiguous information? Nowhere! Approximate to such information can be obtained only in the result of the analysis of data obtained from at least three sources that are reliably independent of each other. In other words: guys, think with your head, watch various TV channels, listen to the radio, read newspapers, do not dwell on any one source. And somewhere in the middle there will be a true state of affairs.
Do not write comments more about "means of enslavement", etc. - it speaks only of your ignorance and atrophy of the gray matter in the skull.
Thank you for reading to the end.