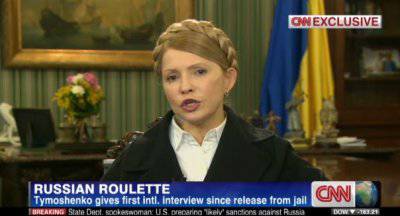 Yulia Tymoshenko advocates the withdrawal of the Black Sea
fleet
Russia from Ukraine, reports
Ukrainian Truth
.
She said this in an interview
Air force
.
"The Black Sea Fleet, especially after all the events, should be defined as a hotbed of military instability, as a source of war. And therefore, the Black Sea Fleet from Ukraine should be removed as soon as possible," she said.
Tymoshenko also spoke in favor of denouncing the Kharkiv agreements 2010 of the year, according to which the presence of the Black Sea Fleet was extended to 2042. "Kharkiv agreements must be denounced," said Tymoshenko.
She once again called the "correct" gas agreements 2009 of the year, concluded after her talks with Russian President Putin.
"I am convinced that the market price for gas will make our enterprises stronger in foreign markets from the point of view of competition," she said.
Tymoshenko called her goal the refusal of Russian gas consumption before 2020.
Yulia Tymoshenko also predicts the adoption of a new Constitution after the election of the President of the 2014 of the year.
"The first thing we have to do after the elections is over is to create all the mechanisms for people regarding the recall of the president, every deputy and even the government," said Tymoshenko.
According to her, "after the revolution, an era begins when we must build new relations between the people and the authorities."
"There will be no more blood in Ukraine," she assured.
"Immediately after the presidential election, a new Constitution will be born, which will make the people not a symbolic power in Ukraine, but an absolutely substantive power in Ukraine. Today, the people do not have the tools to get rid of not very successful state leaders," Tymoshenko added.