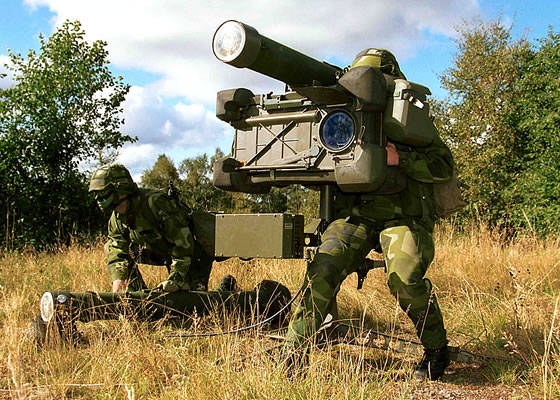 The Swedish company Saab (Saab) has signed a contract with the command of the Brazilian Ground Forces for the supply of short-range anti-aircraft missile systems RBS-70.
The purpose of the purchase is to protect strategic facilities in the country against air threats. The RBS-70 systems are designed to provide Brazilian air defense lower echelon during the 2014 World Cup and the 2016 Summer Olympics.
According to Saab, the cost of the agreement is 80 million Swede. CZK (12,35 million dollars) and includes the supply of portable launchers, missiles and related equipment. MANPADS will receive information on targets from the three-coordinate radar SABER M60 and BRADAR.
As previously reported by TSAMTO, the Brazilian SS planned to purchase an 16 portable RBS-70 launchers installed on a tripod mast, an unnamed amount of an Mk.2 SAM system, six simulators, as well as night vision sights, test equipment, facilities and spare parts.
MANPADS must be delivered to Brazil in two batches. The first will be delivered four months after the conclusion of the contract, the second - 12 months after the signing. The equipment will go into service with anti-aircraft artillery groups and the anti-ship and anti-ship artillery schools (EsACosAAe).
Saab manufactures the RBS-70 ground-based anti-aircraft missile system and its upgraded version of the RBS-70 NG.
The RBS-70 is an anti-aircraft missile system designed to hit low-flying air targets, which can be used in a wearable version, integrated into a wheeled and tracked platform, mounted on board ships. In the basic version, the system consists of a trigger mechanism installed on a tripod, a missile defense system in a transport-launch container, an aiming device. The effective target interception range of RBS-70 NG MANPADS using a BOLIDE-8 km rocket, and a height greater than 5 km.
To date, Saab has supplied more than 1600 complexes of RBS-70 and more than 17 thousands of missiles to 19 countries.
The armed forces of Brazil currently include Russian Igla-S MANPADS, as well as 35-mm anti-aircraft self-propelled anti-aircraft systems (ZSU) "Cheetah-1А2", 40-mm towed anti-aircraft guns "Befors" L / 70 and 35-mm " Orlicon »GDF-001, which must be upgraded. It is assumed that in the near future, Russian ZRPK Pantsir-С1 will also be adopted.