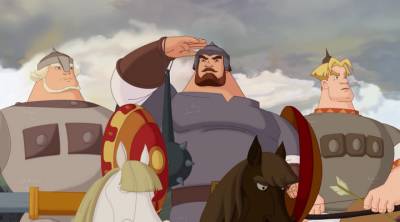 Greetings to you, dear colleagues. Fortunately, I had a little more free time and opportunity not only to read on the Internet, but also to express my thoughts. First of all, I want to thank everyone who understood and kindly reacted to my previous publications. Why thank through this article? Because I do not have the opportunity to be present on the Internet for a long time.
And now for the event that pushed me to write this article. One way or another, but the lion's share of materials of various caliber media is related to what is happening in Ukraine. It is understandable - right on our borders an attempt is being made to create an already run-in model of controlled chaos in the likeness of Iraqi, Libyan and Egyptian. But - not a ride, as was the case in previous times. Everything ran into the reinforced concrete will of the Russian leadership and the "dvygun" began to sneeze.
Putin has long turned into a kind of fakir in the eyes of world society, who never ceases to amaze with unexpected surprises. A sort of KIO in politics. Only if some (with pride I can say - with us!) His unexpected decisions cause surprise and delight with their originality, then our opponents (with them!) Cause some shock, anger, confusion and, as a result, hysterical seizures. Politics is such a thing - it's impossible for all to be good, and if you try to be a white and fluffy rabbit, then you risk to very quickly get into a roast. About surprise, malice and political (and in the case of Madame Clinton at the time of her attempts to push through the anti-Syrian resolution in the UN - and purely babe) I didn't mention the hysteria for nothing. And how else can you call all that informational din and op in the Western media about the next successful and nontrivial move in the geopolitical chess game? Now we have a "happy" opportunity to observe another seizure on events in Ukraine. How many predictions, assumptions, angry warnings! ... Remember, what we just did not hear on the topic - "If Russia only tries ...!". They tried ... and forced screamers from Maidan to swallow their boasts and threats against Russia and the Russians. If the first moves of Russia to protect the residents of Sevastopol, and later the Crimea, were met by the newly minted rulers of Kiev relatively calmly and with incessant threats, then, as the Crimea more and more successfully covered itself with the Russian shield, the regions that came to their senses began to say: "And we - what? Redheads ?! We want the same! ", Bandera's junk enthusiasm diminished. "What about yak ?! What did you want, sanovni pans? Umyvaty moskaliv yushkoyu, and you for te sc schob nothing ne bullo? Especially colas behind the back of a lighthouse uncle in striped cylinders, yes from the colt ?! Neither - here is that dicky zahid! Here - Slavyanska Zemlya! "And already uttered from the lips of the mayor of Lviv, quite unexpected, the speech about the unity of the entire Ukrainian people. This is the mayor who allowed the bastards of the UNSA KJV to crawl over WWII veterans who came to the Hill of Glory to honor the memory of the fallen Soviet soldiers and who, through the local media, called these veterans for freedom, the Nazis and freedom fighters Of Ukraine. Prochuhal guys, that time reckless binge comes to an end, "pennies at the penalty - nema ...". You want, you do not want, and you have to ask for petitioners to Putin. Already a list of "respected" people make up. It only surrenders to me that wherever you do not spit in that pack, you will end up in another bastard.
Especially many were concerned about the issue of possible sanctions from the West, and especially the United States. I do not argue, there is an element of discomfort. But many were sure that this time Putin will invent another focus in the spirit - "On their cyclone, we will send our anticyclone", as it sounded at the time in the reprise of Kartsev and Ilchenko. Apart from the fact that the West (suddenly!) Did not have another friendly, group, verbal diarrhea, it turned out that it would not work to pin Russia down with one fingernail! True, it would not work even in 90. I recall, in this connection, the words of some of our humorist in those years, that - "If suddenly the States ... then we have an atomic bomb ...". It is in this humorous monologue that all the intransigence of the Russian spirit is visible. If you really disappear, so with the music!
Especially many were worried about the topic - how could Russia radically respond to state pressure, if they went to one? I would very much like such a full-fledged retaliatory strike to be in the arsenal of Russia. And it turns out that there is such a "trick"! I came across a statement by advisor to our President Sergey Glazyev -
"We will have to go to other currencies, create our settlement and payment system. We have excellent trade and economic relations with our partners in the East and in the South, and we will find a way not only to nullify our financial dependence on the United States, but also come out of these of sanctions with great benefit. Attempting to declare sanctions against the Russian Federation will result in a collapse for the US financial system, which will lead to the termination of US dominance in the global financial system, "
- said Glazyev. How lovely!!! I just want to warn "experts" who will begin to convince that this is a bluff and that Russia cannot do it, in general, it's too tough. Guys, unlike many, this is ACADEMIC! This is the Academician who predicted very many turns in the economic life of our country and, in general, in the world economy. This person constantly stands behind the back of our President and gives absolutely competent and absolutely safe advice. This is the man who repeatedly tried to convince the Kiev dummies - Yanukovich, Azarov and co. In the destructiveness of their chosen course for European integration. This is the man who, despite the mocking nicknames and insults with which Azarov and other stupid Ukrainian Ukrainian stupid elite showered him, continued patiently and persistently to warn them - "Guys, do not go there! Snow will fall into the head - you will be completely dead! " And the guys, giggling cheerfully and eating the gorilka lard (Everything is nice ...! ", Marched into a bright European future. Until they put the translated text of the agreement under their breath and did not say -" It will hurt here and here. And it's not easy it is painful, and death is possible. And not in understanding - fly up the boundless, European and joyful, but cover up with a coffin board. In general, turn flippers. "So with distrust and skepticism, it refers to the forecasts and warnings of Glazyev - more expensive.
Returning to the next warning of Glazyev to the United States, which became my main motive for writing this article, I want to say - we once again see a POSSIBLE decision completely unexpected for many, the answer to the possible "sanctioning" of states. In search of the most effective solutions, they are forced to confine themselves to the chops of a sword. This already gives a misfire, as manifested from many Internet posts. And here, as Glazyev's warning shows, there is not a feeble mace.
And it reminded me of an old joke:
Musketeers quarreled with the Three Bogatyrs - Ilya Muromets, Dobrynya Nikitich and Alesha Popovich. One of the musketeers went against Ilya of Murom. He stands, sways, and with his sword holds false injections, trying to tear down Illya. Then he jumped to Muromtsu and in the heart area with chalk he drew a cross. Ilya long and thoughtfully looked at these dance steps and asked Dobrynya:

- Nikitich, what the hell is he, like a grasshopper jumping and picking on me small?

- Yes, it is he who shows his friends that he will stab you with a blow to the center of the cross - Dobrynya answers.

- Oh, you s..ka hryazupskaya - Ilya calmly surprised. - Alesha, sprinkle entogo grasshopper with chalk and give me my club. I have it now so ... will not find it!
Sincerely. Esaul