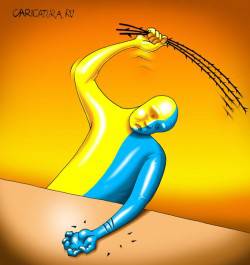 Today, as you may remember, I planned to talk about our internal problems in the context of the Ukrainian crisis. But we will have to retreat from the plan - because on this front, more and more urgent questions arise. Although, by the way, they have something to do with our internal flaws.
I want to draw your attention to how the last few days after the decision of Russia to send troops is changing the agenda of Western propaganda. That is, the tonality, of course, remains the same - we are branded as arsonists of the war, which is in the order of things. After all, if people in Ukraine are killed by Nazi "European integrators", and Russian
Tanks
they haven't entered there yet, although they promised - Putin, of course, is the "arsonist".
However, new notes appeared on this agenda. I will highlight two: threats and trade. And now we will see why this is the same thing. And why the second is more disturbing than the first.
Note one: threats.
There is nothing special, the usual arsenal.
At first, it was a threat to consider Putin a byaki, and Russians — wild barbarians. But since they still think so, such threats did not evoke a vivid response.
Then came the second wave: "we will give a decisive rebuff." Also without comment: our western brothers in reason are able to "fight back" only through the extermination of unarmed people and the bombing of peaceful cities. Russia, on the other hand, is crying out of this civilizational tradition.
And here is the third wave - "excommunication from civilization". Hint was about "economic sanctions", but somehow quickly turned the topic - for what are such sanctions in the world of the victorious global economy? But the upcoming summer summit of G8 in Sochi boldly announced a boycott. Even under the guise of Russia as it were excluded from the "Big Eight" (where, by the way, our country is chairing this year). So in their dadzibao they signed: "G7".
Something tells me that Putin's reaction to this selfless demarche is easily calculated. Maybe once such a thing, we will also be expelled from the WTO?
But: "excommunication from civilization" is a completely different conversation. This is not really a threat, but ...
Note two: trade.
The "exception" of the G8 is trade, so to speak, in a big way.
In the sincere presentation of the West, Putin is such a savage king, longing to show off in a pinch in front of TV cameras in the company of the "elect" in the interval between undemocratic atrocities. Well, because there is no greater value, right? And Washington is just on the distribution of these values: it wants - favors, but it wants - and will select.
And now, putting up for auction this "highest value", the West also designates its stake in the fuss around Ukraine. After all, there is a suspicion (confirmed by the Crimean experience) that the Russian intervention will stem the bloody chaos in Ukraine, will bring the "Ukrainian bridgehead" out of the operational functionality of the Third World War. And for some reason, our Western partners do not want to allow this - it follows from their actual position, if you do not pay attention to democratic verbiage.
This fact we must clearly state in our understanding.
However, trade is trade, so that one and the same product can offer different prices.
And here is one more note in the western information rhetoric: Putin, they say, simply takes what belongs to Russia by right. In this context, words like "provocation" or "invasion" disappear; on the part of Ukraine, "suddenly" some "Russians" are found — that is, something separate from "Ukrainians". And - attention! - the very concept of "Ukraine" is replaced by the concept of "Crimea". And with a hint that "belonging by right" one can recognize also "East".
This is a specific trade in Ukraine. Playing on its dismemberment in the name of some "higher civilizational values."
Suppose, they say, these Russian maniacs choke with their Crimea and their Kharkov - if only they would leave Kiev and Lviv for us to nurture Nazism as the highest manifestation of advanced European thought. (However, the Nazis were more terrible than the current 70 years ago, they also thought that they had Ukraine. And Russia has experience in dealing with the Nazis correctly.)
What is characteristic: the opinion of Kiev clowns regarding this trade is of no interest to western curators at all.
But this is a misunderstanding of the logic of the "Stalin bazaar". For the "Stalinist bazaar" is never a trade.
***
So as of today, this "trade" is virtual. Because Russia does not take part in it.
And - I really hope - will not accept.
The task of Russia, as it is seen in the logic of its strategic interests, including Eurasian integration, is not to take the Crimea from Ukraine and something else, not to attach this "something" to the Russian Federation. Our task is to stop the Nazi lawlessness in Ukraine, protect our people, fulfill our mission as a guarantor of the sovereignty and integrity of Ukraine and take all of Ukraine from the West, and involve all of Ukraine in a constructive Eurasian project.
It may be tempting to bargain - and it is very natural for a significant "Europeanized" part of Russian "elites".
But we must understand what we are selling in this case.
... And there is one circumstance that allows you not to breed panic. Observations on the behavior of Putin's Russia in world politics, as they say, at a distance inspire such certainty: Comrade. Putin and his associates in the name of "universal values" do not pass. Even if some tactical steps cause alarm or misunderstanding, they still end up in the interests of the country. It is in our interests, in the interests of our children - Great Russians, Little Russians, including the Crimean Tatars.