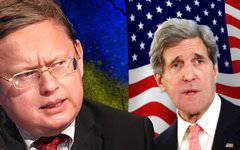 Yes, and freeze the assets of Russian corrupt officials would be nice

Who would have thought! America is ready to impose economic sanctions against Russia if Vladimir Putin nevertheless decides to enter the territory of Ukraine. Such an expected statement was made by US Secretary of State Jim Carrey.
Russia, as the head of American diplomacy lamented, forgot that now it's already the 21st century, and continues to live by the notions of the nineteenth century, entering its troops on the territory of sovereign states "under a false pretext." Well, if so, the US as the main guardians for the "inviolability of sovereignties" (funny, right? But the Secretary of State is sure that this is true) are ready to punish Putin personally and in general all of Russia, without further ado, according to the established scheme of imposing economic sanctions .
And in fact, the old Kerry, in this statement, showed himself to be just a maniac, knowing how to make the victim even more sick. The threat of canceling American visas for Russian politicians and freezing their assets sounded as plain text. State funds placed in American banks, of course, also, but, as it were, specifically focused on particulars.
Against this background, it remains only with sadness to recall the "deoffshorization of business" and the "nationalization of elites" that actually drowned in bureaucratic delays. Especially since the property is still allowed to own. If they knew the pack, as they say ...
In this connection, ordinary Russians, of course, are worried about how essential this entire
история
will affect their lives. In particular, is it worth to expect a truly complete isolation of Russia from the outside world with all the ensuing negative consequences for each family? Of course, it's too early to give detailed forecasts for this part, but in the French visa center our portal was assured that no additional instructions were received for the Schengen registration for Russian citizens and the visa processing continues as usual. Anyway, bye.
It now remains to wait for diplomatic maneuvers in order not to throw new trumps into the hands of American "partners", and it is better to knock out the existing ones. It seems that work in this direction has already begun. According to media sources, Vladimir Putin and Angela Merkel have already agreed that the settlement of the situation in Crimea will be carried out with the participation of the OSCE mission.
In a conversation with the KM.RU columnist, the Director General of the Institute for the Problems of Globalization, the well-known economist Mikhail Delyagin noted certain positive aspects in the perspective of possible sanctions from the United States:
- I think that this is, in fact, an excellent statement by the US Secretary of State and that we need to appeal to Mr. Kerry with a special request first of all to immediately exclude Russia from the WTO and remove from it all the burdens that are caused by membership in this organization. And, accordingly, to return to Russia those many tens of billions of dollars that developed countries, including the United States, received from our membership in the WTO on knowingly enslaving conditions.
The second thing that Mr. Kerry needs to ask for (and for what even, I think, it is worthwhile really to send troops to the Crimea) is for the United States to freeze on its territory the assets of all Russian corrupt officials. It is also highly desirable for them to enforce similar measures on Europe, as well as all the countries of Asia, to which they can only reach. After all, forcing them perfectly well.
That is, the threat of the United States to impose sanctions, I would suggest, be regarded as a great chance that can really help Russia politically, economically and socially.
For its part, Russia could promise the United States of America never to buy Boeings again, preferring Airbus to them, and even better, to work closely on the development of its own aircraft industry. We could also promise the Americans never to buy poultry meat from them, switching to producers from Brazil and other countries. Finally, promise the Americans that they will never again allow their financial insurance institutions to enter Russian territory, reorienting to European ones.
I think that the Russian Federation could right now, without any preliminary agreement, begin cooperation with Iran and China to create an interbank settlement system, an alternative to SWIFT. I think that today, even without any agreement, the Russian side would have to start with urgent measures to prepare the transfer of our commodity exports from payment in dollars to payment in other currencies - euro, yuan, rubles at worst.
And, of course, it is necessary to transfer all funds of the federal budget in the form of the Reserve Fund and the National Wealth Fund invested in American securities at least to European ones, and it is better to simply take them out and direct them to the development of the Russian economy.
If we at least begin this process, then I think that in a short while there will be another Secretary of State in the United States - perhaps even more responsible.