The leaders of the largest media groups (media owners) of Ukraine appealed to their Russian colleagues from 1 channel, NTV and VGTRK. The point of the appeal is that the Russian mass media present information about the events taking place on the territory of Ukraine, objectively and truly weighed.
The appeal states, in particular:
We have been acquainted with you for a long time, we are united by joint projects, in many respects common views on life, and we all madly love television. We believe and know that you, just like us, do not want a war between two fraternal peoples - Russian and Ukrainian.
Each of us is a patriot of our country, and each of us has a special responsibility at this difficult and explosive moment. We ask you to openly, carefully and objectively cover the events taking place today in Ukraine. We ask you to understand and support the position of all central Ukrainian TV channels and responsibly treat every word. We have no right to kindle enmity between fraternal Russian and Ukrainian peoples, to broadcast unverified or distorting reality information.
We are sure that if the existing confrontation develops into military actions, there will be no winners, everyone will lose. Our nations will lose, which
history
, faith, blood is inextricably linked. We believe that together we can do everything to prevent this from happening. We believe that there will be peace between our countries.
Alexander Tkachenko, Anna Bezludnaya, Fyodor Ogarkov and Vladimir Borodyansky put their signatures on the appeal.
Words of appeal on behalf of the Ukrainian media owners, of course, touching and shrill. Of course, only in a nightmare can a war between fraternal peoples (and in fact, between representatives of one large East Slavic ethnos) be possible to dream. In this regard, it is honesty, objectivity and balanced positions that should come to the fore in the work of all the media without exception. To argue here, at least, is silly.
In places, Mr. Shuster was touching and shrill in his Shuster Live program on Ukrainian TV. Savik Shuster (nee Shevel Shusteris), by the way, a citizen of Italy and Canada, stated in this program that the war in Ukraine and Russia is already under way, and called on all journalists, without exception, to accept the "journalistic oath". Like, friends, let us swear that we will devote our lives to the service of humanity, that we will give our teachers due respect, that "objectivity", "impartiality" and so on. The audience met the call of Schuster, let's say, with applause waiting for the climax (appeals seemed to be sensible). And, admittedly, the climax did not have to wait long. Only now "culminating" Shevel Mikhailovich already in the mode of a certain information agony, or something ...
You can see the program in question.
here
.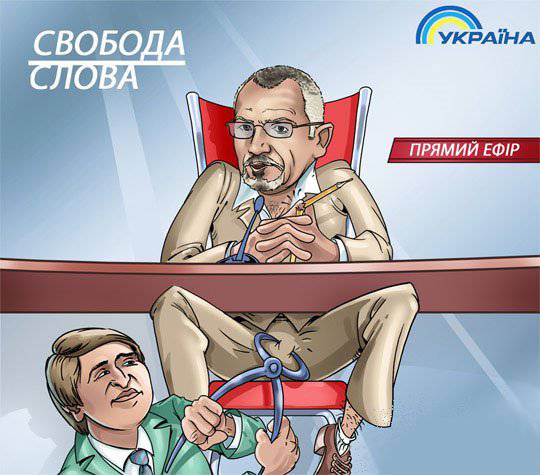 As soon as Schuster finished with appeals, he, following a terrific, understandable only to him and, perhaps, to Mr. Shenderovich, logic, passed from an oath to reflections on ... the Berlin Olympics 1936 of the year. Whether Mr. Shenderovich's Internet post on the opening day of the Sochi Olympics made a great impression on Mr. Schuster, or whether Shenderovich's or Schuster's brain works on the same program, only with a small delay ("on warming up the tracks"), but the result is almost identical in one and the second. Mr. Schuster, who had just called on almost the entire public to swear on the blood, gave his thought to the Ukrainian broadcast, for which he seems to have started his entire performance. The idea is as follows: modern Putin is, in the understanding of Schuster, Adolf Hitler, modern Crimea is, in the understanding of the same Schuster, Austria and the Sudetenland, and modern Ukraine is Poland 30-s in its own understanding.
Apparently, many people present at the program, like people who were contemplating Schuster on the air, wanted at that moment to ask about the host if he smoked the same "herbarium" as Viktor Shenderovich, but Savik Shuster, a "patriot" of Ukraine, holding his hand Canadian and Italian passports in his pocket and mentally counting his fee, which probably already dripped into his account after the statements made by him, decided to admit everything without spectator questions.
From Schuster's words, it turned out that in order to receive "objective" information about events in Ukraine, he is not even looking at Ukrainian channels, but certainly CNN. Well, this is the same channel, which, as you know, is the "Everest" of information impartiality ... Then it became clear to the viewers of Schuster ... It's clear that people who used to perceive the world through the lens of a CNN camera with miraculous comments from local journalists, and Schuster, as it turned out, among these people, mania and phobias of different categories and classifications can form. For someone: Obama is a peacemaker, for example ... For someone: Colin Powell was holding a tube of anthrax from Saddam's super-secret laboratories in his hands ... For someone: Ukraine is Poland ... What a headline for a CNN audience! .. "Putin is Hitler" - well, is it not a miracle of informational and analytical objectivity ... Yes, this alone forces the "partners" of Russia and the "big friends" of Putin himself, otherwise, to orgasm (forgive the term) at the sight of Schuster's glasses ... one step, and the presenter would surely have burned a straw effigy in the image of a Russian the president was so dispersed that mother don't worry ... CNN is not giving, not taking (well, you understand) ...
In general, against the background of such "mega-objective" information that some Ukrainian media drag and drop from the American media using the ornate transportation method, the Russian media were offered to be more objective ... Interestingly, in the understanding of Ukrainian colleagues, how should Russia understand the concept of "objectivity"? Judging by the transfer of Mr. Schuster, the process should look something like this:
«
Over the building of the Sevastopol city administration raised the Russian tricolor
"- well, no, this is completely biased and biased ... There is no need to show.
But if so: "
the building of the Sevastopol administration bloody tyrant, cannibal and torturer of human souls - Vladimir Putin - was captured by the hands of those utterly intimidating those who curse (as CNN reports) deep down Russia, Crimeans seeking to live in a united Europe together with the Democrats of Maidan and "Right Sector" sniffing forget-me-
- this is objectively ...
Oh, Shuster will appreciate it so precisely, where honestly and at the level of the journalistic oath, and where is the false "Putin propaganda" ... It's hard not to appreciate two passports ...
Heads of TV channels VGTRK, NTV and 1 Channel (Kulistikov, Dobrodeev, Ernst) gave their answer to their Ukrainian colleagues (the full version is on the website
"NTV"
):
It is difficult for us to imagine you as a writing Zaporozhian, and ourselves as a Turkish sultan, because we are a single and indivisible great Slavic television space that has become an integral part of the daily life of millions of citizens of Russia and Ukraine. And if in this space we are talking about war, then it is important to note from what moment this terrible word became relevant. Is it not from the moment new people tried to discriminate against the Russian language in which we communicate and broadcast? Maybe, if your call were made at that moment, and we would have definitely joined it, we would have been able to avoid subsequent developments.

As for objectivity and responsibility, we would like to make a similar appeal to you. Let's be objective and responsible, let's weigh the words and hold back emotions, let's do it not apart, as it has been lately, but together. And it will certainly give an objective picture of reality. What is now the most important for all.

Friends! Adjust your life. We are always with you and help.

In the end, you could add a little note, paraphrasing the famous hero of the immortal story of Mikhail Bulgakov: do not look in the mornings of CNN ...
Better walk the streets yourself and chat with "live" people.