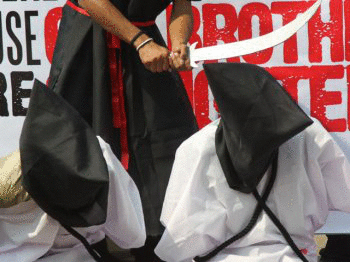 With such an attribute of information blocks as
prohibition signs
we meet almost everywhere. These are prohibition signs on the streets, and special prohibition signs in offices, cafes and shops. Some signs prohibit entering a restaurant or club for those whose dress code does not meet the standards of this institution, others prohibit the use of mobile phones or cameras.
There are quite a few states in the world, the number of bans of which is ten times higher than the Russian level. If liberal groups of the population call Russia a country of prohibitions, then it would be interesting to find out what they will say when they are in Saudi Arabia, for example, or, in the opinion of many, Singapore.
Let's talk about Saudi Arabia. If for some reason you decided to visit this Arab country, then you need to remember that this is a country where Islam is the state religion, and Islam that many Saudis profess cannot be called classical by today's standards. The main shade of local Islam is Wahhabism, which is banned in many countries of the world.
All criminal law in Saudi Arabia is based solely on sharia. That is, a person who is suspected of a crime or an offense will be judged not by secular criminal code, but by Sharia law.
Saudi Arabia has the toughest political censorship. Here, by definition, there is no opposition, and therefore there is no opposition media. Any dissent is prohibited. Even discuss the political system in Saudi Arabia is impossible. For this you can seriously pay.
Saudi Arabia is one of the few countries in the world in which women's sports are officially banned. If a woman wants to engage in this or that sport, then the main task of a close man (husband, brother, father) to quickly convince her. If persuasion does not help, then the Saudi men, by law, are simply obliged to act more firmly. But with the social role that women play here, it's hard to imagine that one of them would decide to contradict a man. A woman in this country has virtually no rights other than the right to remain with her husband. There is no question here of any emancipation or conviction of a man for treason by a woman, since polygamy is the norm for Saudi Arabia.
With all these medieval norms, the West does not see Saudi Arabia among the undemocratic totalitarian states. To the question of double standards.