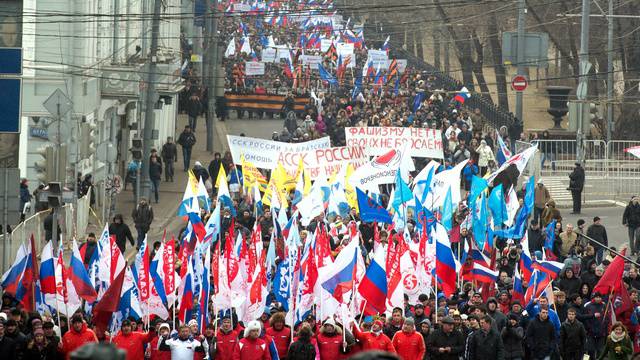 Online directories help you find the right information. To find out which business areas are developed in Russian cities, you can use the opportunity and explore
directory of companies Saratov
, Voronezh, Bryansk and other cities of the country at a convenient time.
Today, in many Russian cities, mass actions are taking place in support of the Russian-speaking population of Ukraine, which has been confronted with overt aggression by the radicals who have committed a coup d'état in Ukraine. The most massive processions under the motto "We don't throw ours" were held in both Russian capitals. On the streets of St. Petersburg took about 15 thousands of people. More than 25 thousand people marched through the streets of Moscow.
Mass actions in support of good-neighborly relations with Ukraine were held in other cities. These are frontier Bryansk, Belgorod, Rostov regions. In Novocherkassk alone, a rally in support of the fraternal Ukrainian people, residents of the Crimea, who are experiencing truly difficult times, came out around 7 thousands of local residents. Novocherkassk is the twin-city of Simferopol, and therefore cries are often heard at rallies that the capital of the Russian Cossacks will not leave the Crimean people in trouble.
It is worth noting that a referendum is scheduled for March in the Crimean autonomy on 30, the results of which the residents of the republic will have to decide on its future status. Several variants of the further fate of the Crimea are discussed. One option is to obtain the broadest autonomy with its own constitution of the model 1992 of the year. The second option - the Crimea becomes a state formation with the presence of its own army, security forces, authorities and other attributes.
The head of the Cabinet of Ministers of Crimea, Mr. Aksyonov, noted that the Nikolaev and Kherson regions had already wished to enter the jurisdiction of the Crimean autonomy. It is not yet clear whether the inhabitants of these southern Ukrainian regions will take part in the referendum.
At the same time, some Ukrainian publications exaggerate information that the Crimean Tatars want to boycott the referendum. How this information corresponds to reality is not yet clear.