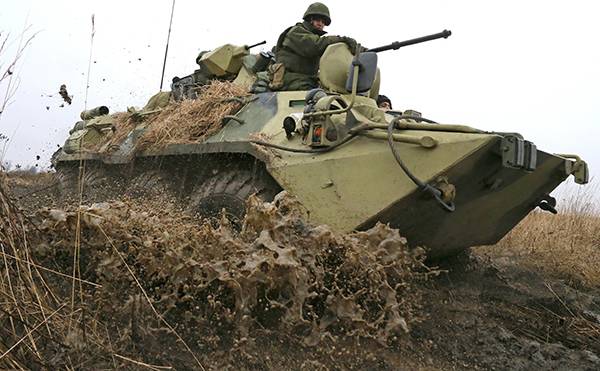 In the Kaliningrad region, as part of a sudden check of combat readiness, by order of the Supreme Commander-in-Chief of the Coastal Forces and Baltic ships
fleet
started live firing from standard weapons.
March 3 on the ranges of the Kaliningrad region coastal troops are firing from all types of rifle
weapons
, grenade launchers, weapons of infantry fighting vehicles BMP-2,
tanks
T-72, self-propelled artillery, barreled artillery and multiple launch rocket systems for targets that simulate tracked, wheeled vehicles and manpower of a conventional enemy.
According to the information department of the press service of the Western Military District of the Baltic Fleet, combat firing is carried out in a difficult tactical environment using various means of simulating the enemy. From the air, the ground group is supported by the marine
aviation
BF, which strikes against conventional enemy targets with airborne weapons.
At the same time with the coastal forces in the sea ranges, the Baltic Fleet ships carry out joint combat exercises, including artillery and air defense missile firing at surface, sea and air targets.
The shooting is carried out by the crews in the framework of joint naval exercises for the drawing of artillery combat with surface ships of the conditional enemy, for conducting battle with a single ship and means of air attack. Along the way, the crews work out the tasks of searching and tracking submarines of the conditional enemy, carry out depth bombing and mine setting.
Meanwhile
On the eve of the sudden inspection, the Baltic Fleet also held other events. In the Baltic area, the BF anti-submarine strike group destroyed the submarine of a conventional enemy. Warships and naval aviation of the Baltic Fleet "freed" a Russian merchant ship seized by pirates. And at the Pawenkovo ​​training ground, bilateral exercises of the coastal forces of the Baltic Fleet were held, in which tank crews, motorized infantrymen and marines accepted the exercise.