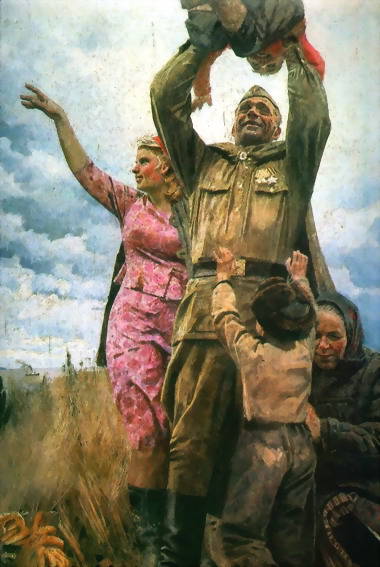 I deliberately and for obvious reasons do not put the question "why" or "who." And so everything is clear. It is - how.
The world is changing. And, often, it does not change as we would like. Examples from Yugoslavia to Syria can no longer be cited, this is also clear.
But the next change did not go as planned. And at one point, the friendly faces of politicians were no longer so friendly. One day. Remember, some week ago they smiled, clapped and rejoiced with us. And that's all. Turned off at once.
I risked turning on the brain. And that's what was formed in it.
The nineties. Everything collapsed. We somehow suddenly became beggars. Oh, how they loved and pitied us then. How gladly they gave loans, how they sent "humanitarian aid." With ecstasy and without failure. In those years (94 and 95) I was engaged in sorting this aid for orphanages. And never forget it. It was a shame and humiliation. Torn and rags from all over Europe, which is too lazy to carry in the trash. Expired juices and medications in boxes and packages. Nate, Russians, remember our generosity. Especially enraged drugs. Overdue, without instructions.
Basically, everything went in the trash. Such a "help" could be collected in any of our city dumps.
The only "ray of light" in the kingdom of garbage was, oddly enough, parcels from Germany. I can not fail to note this. The Germans behaved like people in this matter.
I think they did enjoy our humiliation. But time passed. Songs and drunken Yeltsin ended, someone completely unknown came. Yes, what does it matter who? Everything is going according to plan, Russia is entangled by debts and owes everything to everyone. Not up to ambition.
The first winning "bell" rang back in the already distant 2006 year. Who does not remember, who did not appreciate, although there were many disputes then. I'm on early repayment of IM. Europe was shocked when this fact happened: Russia paid all the debts to the Paris Club and also welded on more than 7 billion dollars. It was the first significant victory over THEM.
Here we have ceased to be good. Close this trough - is that you? Suffered, however. And they took the money. Well, who is the money, who is the goods. Portugal (damn, even 81 million should have been given to them !!!) did not particularly ask - take airplanes, well, they took you ... They didn't get anywhere.
Then there was 2008. Here is howled is not childish. As it so, it turned out, Russia has an army capable of not only trampling militants in Chechnya. And to hang on to the Georgians, whom THEY supplied to everyone for a long time and generously. Shouted the whole world. "Russian aggressors, Russian murderers." Stole and shut up. True - it is a difficult thing, but if it comes out, it is difficult to push it backwards.
"Gas Wars". Well, who could imagine such a thing in the nineties? Yushchenko he seems to be his own for THEM, but he behaved like a goat. And we turned back the tiller, and the European Europe, who was already chilling, already began to shout at THEM in the sense that it was fucking who the goat, Yushchenko or Putin, COLD !!! Again they shouted, but swallowed. But put a tick in memory.
Olympiad. Well, here they have manifested themselves in all its glory. Only lazy did not go through this topic. And everything will be plundered, and nothing will be built, and if they are built, everything will fall apart. And what? Again wiped off. Well, sometimes, yes, the error came out.
They didn't have time to otolimpiadit, as again flashed. But - near. And the reaction is accordingly. Here they have really bombanulo. To do something is necessary, but what can?
The summit (well, that is, if translated - drunk at the highest level) in Sochi decided to cancel. And God bless him, the budget is only good. Past the ticket office, dear. We will survive.
From the "Big Eight" threaten to throw. Well, this is a serious argument, of course, but here the Germans have a real scrap of a bite. Germany is already the whole of Europe, consider it contains one sting, and if Russia also rolls away with its money, longing and sadness.
Freeze accounts there, at THEM. This is our Barak adores. This he can. But for some reason in Europe again this does not cause a fit of optimism, because the freezing of assets can easily turn into a freezing of liabilities. That is the same Europe. The light turns of the aforementioned krutilki with gas. It is clear that summer is on the nose, the lack of hot water is not such a problem, but judging by the cries of "it's not worth it right away" to rinse in cold water there are few people who want it.
Economic blockade. Well, yes, they were scared. No, no questions, we take a lot of things. There is another question: where are you going to block all this? Eat-drink-screw? Do not equate our market and the market of the unfortunate Libya. They were terrible sanctions, we just kill. But what will you pay your workers there? It was only Russian who could receive a salary by what he produced and survive. And the European either will die, or on euromaidan explode. Angry, unwashed and hungry.
Especially New Zealand pinned. Also threatened with blockade. As I read, I played under the table. Well, where are you going? Do you even know there is Belarus like that? I have two guys from Belarus keeping a fold. Milk, sour cream, meat, cheese ... a lot of things. Met one, told. And he is in all seriousness: "Is Zeeland in the States?" I explained that no. Serega scratched his turnips and said: "Yes, hammer, we will still buy the third truck." All questions are not.
And also China as a friend climbs. There are no comments at all.
The paradox, of course, but we are not strong to anyone, who are full and courageous. There, at THEM. THEY will love us only when we are on our knees (you know your favorite posture), weak and submissive. So that we can take everything from us, and pay with a cheater and snickers. Or green paper.
And today's IM we do not need. With an army that comes to life, with plants, with a bridge near Kerch, with a new cosmodrome. Because scary. Russian bear - he sleeps a long time. But when he wakes up, it is clear to everyone whose cones are in the forest. And whose honey And in his forest he is right. And in truth - the power. And that is true that there is spring in the yard. And not 1994 year, as I would very much like IM, and 2014. And it seems to me that there will be much more this year that IM will not like it.
That, in fact, is the answer to the question: how THEY hate us. Fiercely. But - in fear.
P.S. Posted Read it. Maybe a few of that ... but that heart was cooked with his head, so I share.